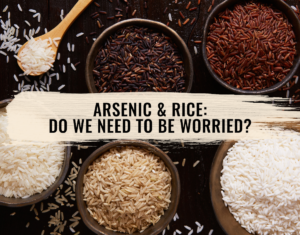 I am passionate, over the top, even fiery, about going the extra distance to eat my foods organic, pesticide free. I wasn't always so careful, but I am a 14 year cancer survivor, so with great respect to getting a second chance, I play by the rules. I eat a diet of 80% plant based living foods, avoiding bottled, boxed and processed products. I'm dairy-free and wheat-free. I eat 20% of my foods cooked. I don't eat a lot of grains, but sometimes I do enjoy some rice or rice noodles. I love rice noodles with garlic, green onions and shiitake mushrooms topped with unpasteurized soy sauce, called nama shoyu. Yumo! I soooo thought I was getting it right.
So I was very surprised and distressed to learn three things:
ONE: There are no federal limits for arsenic in rice and rice products. Modern rice, even organic and brown, contains quite a whallop of arsenic.
TWO: Regular exposure to arsenic has been found to make the body insulin resistant in both adolescents and adults.
THREE: Many gluten-free products contain rice. Studies have found that people who eat a gluten-free diet on average have almost two times the amount of arsenic in their bodies compared to people who aren't gluten-free.
Consumer Report tested 223 samples of rice products and found significant levels of arsenic in almost all of them, including white, brown, parboiled, jasmine, basmati and other types of rice. Arsenic was found in rice whether it was organic or conventional and from all regions of the world, with brown rice having 80% more arsenic then white. WHAT???!!! Yup! Our hippie beloved brown. Arsenic tends to collect in the rice's brown outer hull.
HOW???
How did this basic, wholesome food become polluted, for god-sakes??? I wanted to know.
Turns out the rice growing south-central region of the U.S. has a long history of producing cotton, a crop that was heavily treated with arsenic pesticides for decades, in part to combat the dreaded boll weevil beetle. Un-organic cotton faming is known to be one of the most chemically dependent farming methods on Earth. For decades, farmers used lead-based arsenic insecticides to control pests. Many of the chemicals were banned in the 1980's. But, like radiation, much of the arsenic that was left behind still remains in the soil and ground water.
Because rice is grown under flooded conditions where irrigation water is often contaminated with arsenic, rice absorbs more arsenic then other food crops.
WHAT IS THE PROBLEM WITH ARSENIC?
The International Agency For Research For Cancer classifies arsenic as a 'Category 1 carcinogen', meaning it's known to cause cancer in humans.
Long term exposure is linked to:
> Skin lesions
> Dementia
> Type 2 diabetes
> High Blood Pressure and heart disease
> Neurological problems
> Cancers of the skin, lung, bladder, liver and kidneys
WHAT CAN YOU DO?
> Consume Blue-Green Algae daily: Spirulina detoxes heavy metals, especially arsenic, from the blood and organs. Not just any spirulina will do. You want to purchase spirulina that is processed at very low temperatures and is grown in pristine waters. We suggest 'E-3 LIVE'.
> Up your consumption of organic probiotic foods. Arsenic plunders our delicate intestinal flora. Consume plenty of unpasteurized organic krauts and misos.
> There is a whole world of other grains and foods worth trying, as well as making "rice" out of organic cauliflower. Especially for pregnant women and infants, for obvious reasons.
> Still taking your chances on rice from time to time? Know where it's grown. Basmati from California, India and Pakistan are the suggested best choices. Rice grown in Arkansas, Texas and Louisiana, the 'Cotton Belt', are high in arsenic, and to be avoided.
> Check out organic rice products by 'LUNDBERG FAMILY FARMS'. They have grown eco-farmed, organic rice in Richvale, California, the Sacramento Valley area, since the 1930's. They do a lot of testing of their rice and are very transparent about talking about the problem on their website.
WANT TO KNOW ABOUT KEEPING YOU AND YOUR FAMILY HEALTHY IN AN EVER CHANGING WORLD?
WOULD YOU LIKE TO MAKE A THRIVING BUSINESS OUT OF IT, WHILE HELPING OTHERS?
__________________________________________________
_________________________________________________
STAY TUNED FOR OUR
"SPRING POP-UP"
'CERTIFIED HOLISTIC HEALTH COACH/
CANCER COACH PROGRAM'

Date To Be Announced!

Check Out Everything We Teach Here:
http://bit.ly/DFLCoachPrograms

Check Out Our Testimonials here:
http://bit.ly/DFLS_Testimonials
Have questions?
E-mail us at dietforlivingschool@gmail.com or call us at 505.243.1157
We are here for you.

Please Share Us With Family and Friends Also Seeking
A Career That Makes A Difference!