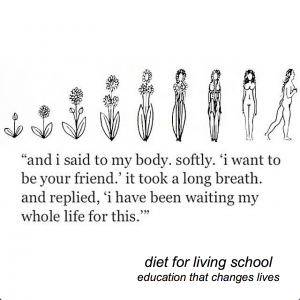 A moment of truth….choosing to Detox your body with Vegan Raw living foods is going to push you out of your comfort zone. But what if the rewards are magnificent?
Look at your life….What would you give to be present in a body you truly love? To never go one more day over-weight and miserable. To not suffer from inflammation or mystery pain. To Heal from nagging and chronic disease. To Feel in control of your life! To BE in control of your life! To Be at peace with yourself.
For many of us, we have been holding on for so long that the promise of relief can seem unimaginable. But I promise…… if you try, your life will shift in small and large ways. Detoxing your body is the ultimate self care act that leads to the self love you have been seeking.
How do you begin your own healing journey? Not with a liquid juice fast or starvation tactics. There is limited love and joy in that. We recommend only clean, organic living foods in nutrient dense combinations that restore and rebuild the body. Foods that have the life force to heal the neurochemistry in the brain that are associated with cravings.
When I began my own healing journey, I was very sick, dangerously out of balance, more like dangling off a cliff. I had been food obsessive for years. It took a cancer scare to turn my life around. I joined the Vegan-Raw-Food movement to get my myself back on track. I began with detoxing and then transitioned to living on 80% live foods for life. It has transformed my health, both body and soul, as well as maintained my normal weight and reorganized my relationship with food in general. I am no longer in battle with my body. I became so passionate about the potential for every 'food absorbed person' like myself to be free of shameful cravings that I became an educator and started the Diet For Living School.
__________________________________________________________
__________________________________________________________

JOIN THE HEALTHY FOOD REVOLUTION!
Here is what Diann Isidor Love from St. Croix, U.S. Virgin Islands says about her training with us:
"Your program put me on another level. Very motivating and inspiring for me to help others. I am confident in starting my school of natural health."
Our Next 100% OnLine Class Begins Summer 2019!
Program Date To Be Announced.
Join us for this enlightening educational
experience as together we create a
healthier, happier, more fulfilling world.

Check Out Everything We Teach:
http://bit.ly/DFLSHealthCoach
What Our Graduates Say About Our Program:
http://bit.ly/DFLS_Testimonials
Sign Up For Our Newsletter HERE To Keep Up With
The Latest Health News And Our Sales and Promotions.
Have questions? E-mail us at dietforlivingschool@gmail.com or call us at 505.243.1157
We are here for you.
The Best To Your Success
Diet For Living School
Education That Changes Lives