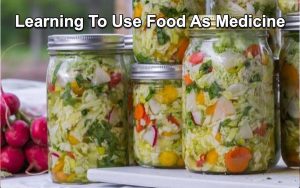 Advertising and popular media messages have led us to believe that if we pop a probiotic pill daily all that ails us in the gut will be solved. That the complex ecosystem of microscopic bacteria and yeasts that inhabit our intestines is as easy to solve as washing our hands or brushing our teeth.
Yet studies have shown that the typical commercial supplements only contain one or two different species of microbes. Your gut, however, is home to over 100 trillion microbes from over 1,000 different species. This means that a typical supplement contains less than 1 percent of the species needed for this rich, diverse, complex ecosystem. Probiotic pills are really like a drop in the ocean. Most of the beneficial critters we host in our gut can't even be grown in a lab.
When we pop a supplement, too often we force any old lab grown bacteria into this tightly-knit community. The result can be:
> allergic reaction
> stomach upset
> gas and bloating
> diarrhea
> inflammation
> possible serious infections and other side effects
Most probiotics in the US are sold as dietary supplements. That means that no matter what the cost or sincere promise, companies that make them do not have to test their products and show that they work or that they are safe for human consumption. This means that you can be spending your hard earned money on a supplement that is doing you more harm than good.
ALARMING INFORMATION
Research has turned up alarming information about how probiotics are formulated. The FDA does not require manufacturers to list fillers and flow agents on the label. Nearly all probiotics available in the U.S. market are secretly formulated with genetically modified ingredients. The most common ingredient is Maltodextrin, used as a flow agent in the machinery that makes the supplement. Maltodextrin and other fillers are derived from GMO corn. This is why you will not find the very important words 'USDA Certified Organic' anywhere on the label. The USDA Certified Organic program is very stringent and 99.9% of probiotics do not come close to passing. Some non-organic probiotics have been found to contain as much as 30% maltodextrin in their formula.
PROBIOTICS 101
Simply put, the friendly bacteria that keep our intestinal health in balance are not made in the body. We must extract them from external sources. Probiotics work by sitting at receptor sites, blocking unhealthy invaders, protecting us from illness. The probiotics best suited for this task are the ones present in the air we breath. Yes, that's right. Once more Divine Intelligence has the problem solved if we just cooperate with Nature. These microscopic yeasts surf through the air on dust particles. When the conditions are right, such as when we set out hand crafted kraut on the counter, these little guys latch onto our creation and the journey of fermentation begins.
"Birthing New Life To Support Life." So powerful!!!!
These single-cell microbial life forms are essential to life's processes, such as proper digestion and a strong immune system. These cultures digest foods into nutrients our body can easily absorb, protect us from potentially dangerous organisms and help us live a long healthy life using Food As Medicine.
At Diet For Living School we believe in co-creating with the Intelligence of Nature, using Food As Medicine.
We teach our students how to make easy small batch fermented krauts from vegetables in the brassicas family. The natural lactobacillus aids the body in fighting:
> candida
> migraines
> cancer
> Alzheimer's
> chronic fatigue
> arthritis
> digestive problems
> autoimmune diseases
__________________________________________________________
__________________________________________________________

JOIN THE HEALTHY FOOD REVOLUTION!
This is what Monica Williams from Birmingham, England has to say about her training with us:
"Diet For Living's Using Food As Medicine course taught by Paula Diana is a must for Raw and Vegan Food enthusiasts and for those who would like to pursue a career in the Wellness Industry. Join like minded people who really want to make a difference in their lives as well as the lives of others. Best choice I ever made!"

Our Next 100% OnLine Class Begins Summer 2019!
Program Date To Be Announced.
Join us for this enlightening educational
experience as together we create a
healthier, happier, more fulfilling world.
Sign Up For Our Newsletter HERE To Keep Up With
The Latest Health News And Our Sales and Promotions.
Check Out Everything We Teach:
http://bit.ly/DFLSHealthCoach
We Offer An Education That Is Engaging, Powerful
And Transformative For You And Your Clients!
What Our Graduates Say About Our Program:
http://bit.ly/DFLS_Testimonials
Have questions?
E-mail us at dietforlivingschool@gmail.com or call us at 505.243.1157
We are here for you.
The Best To Your Success
Diet For Living School
Education That Changes Lives