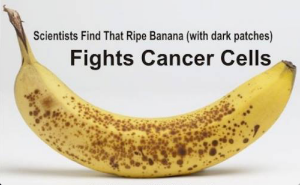 Studies carried out at Teikyo University in Japan showed that ripe bananas (with dark patches) enable the body to produce the potent substance TFE that is known to prevent and fight cancer. Ripe bananas contain TFE molecules that can inhibit the development of abnormal cells. The research concluded that the activity of the ripe bananas was comparable to that of Lentinan, a chemical I.V. anti-cancer agent.
I'm not surprised. When I was fighting my own cancer, everyday for a year for supper, I drank a blender drink that included a ripe banana and fresh chlorophyll rich greens with antioxidant rich fruit. I owe these blender drinks to my healing.
I want to share one of them with you:
BANANA POWER SMOOTHIE:
1 cup strawberries
2 bananas
1/2 bunch romaine heart leaves
2 cups water
Blend.
Makes 1 quart smoothie. To get the best benefits, drink it over an hour's time.
For more ideas on cancer preventing banana drinks check out Victoria Boutenko's book 'Green For Life".
__________________________________________________________
__________________________________________________________

OUR NEW YEARS 2020
'CERTIFIED HOLISTIC HEALTH COACH/
CANCER COACH PROGRAM'
HAS FILLED!
THANK YOU TO EVERYONE WHO TOOK ADVANTAGE OF OUR SALE!
WE LOOK FORWARD TO WORKING TOGETHER IN THE NEW YEAR!
Our Next Program Will Be September 2020.
Date To Be Announced!

Check Out Everything We Teach Here:
http://bit.ly/DFLCoachPrograms
 Check Out Our More Testimonials here:
http://bit.ly/DFLS_Testimonials
Have Questions?
E-mail us at dietforlivingschool@gmail.com or call us at 505.243.1157
We are here for you.
Please Share Us With Family and Friends Also Seeking
A Career That Makes A Difference!