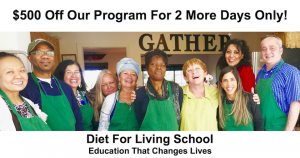 We just finished our Fall 'Certified Health Coach Program'. Eager students traveled from all over to train with us. We had women from Philippines and Mexico. It is not unusual to hear one or two other languages spoken beside English. Each person helps to build the magic and connection that happens in the Green Healing Kitchen and GreenHouse. If you are new to healing the body with Raw Living Plant-based foods you may wonder why people come from so far and wide to attend our trainings.
First, it's hard to explain the powerful energy that happens when a group of like-minded people join together with complete curiosity, dedication and commitment. Together we dig deep into the truth that creates optimum health and wellbeing. It's our common bond.
As Eckhart Tolle explains: "This is a time of transition for humanity, and also a time of crisis. I feel quite hopeful because I never expected that so many millions of people would be open to a change in consciousness. I was surprised to see how many people seemed to be almost waiting for this message. There was something inside them that was ready for the change."
OUR COURAGEOUS STUDENTS
This quest to learn is a move-ment to make a difference….a brave courage that finds a way to take vacation time and use it for learning. A tenacity to find a way to have the kids and the dog looked after while they are away. A faith that their world will hold together until they return home. A daring to do something other family members may not understand. A determination, a fire to learn a new way to be in the world and carry that knowledge forward. You just have to attend our trainings to experience it. It's powerful.
Check us out here: http://bit.ly/dflshome
WE HAVE BEEN TRAINING STUDENTS FOR 10 YEARS
If you surf the web, you will find Health Coach Programs have popped up like mushrooms. Most of them are web-based trainings, maybe making it feel difficult to make a decision when choosing the right school for you and your needs.
Students that attend our program report that we are a good match for them because:
>We include three days of intensive hands-on learning in our three month program.
>Our classes are small and intimate. We place a premium on personal attention.
>We are the only school in the world which believes strongly that to confidently teach others, you need to first experience the foods yourself.
>We integrate both coaching and raw food chefing skills so that you can build a sustainable career that helps your clients heal chronic disease with detoxification therapy.
>We include 8 weeks of business and marketing designed with the specific needs of coaches.
>We have worked hard to make this education affordable to everyone.
WHO ATTENDS OUR SCHOOL?
Our school proudly attracts a diverse range of students from all ages and backgrounds; nurses, doctors, science teachers, IT workers, office workers, stay at home moms, business owners, yoga teachers…… People with high school diplomas, college degrees, Phds…..looking to heal themselves, their families and their communities. What they all share is the common knowledge that the Industrial Food System has created an epidemic of sick citizens riddled with preventable, lifestyle-driven diseases……a world out of balance…….and it's time to make change, teach change, be the leaders of change.
WHAT YOU ARE SEEKING IS SEEKING YOU
We feel humbled and blessed to share our gifts with students looking to create careers with greater purpose and deeper meaning while enriching the lives of others. Each student has a somewhat different plan for what they want to do with their training after graduation. But they all arrive with the same truth: that to make their journey meaningful on this precious Earth they need to help others. Anything else is living their lives too small.
If you long to get you health and your life back on track while learning to make the healthiest food on Planet Earth then join us in the New Year for our 'Certified Health Coach Program'.
FOR 2 MORE DAYS ONLY TAKE ADVANTAGE OF OUR DISCOUNTED PRICE AND BONUS GIFTS! BUT YOU WILL HAVE TO HURRY! CLASS IS ALMOST FULL!!! HERE'S WHAT YOU GET:
> $500 off the total price of your tuition! We want to give you all the incentive you need to get healthy, help your family become healthier and bring that knowledge to your community to build a successful career.
> Free! 45 minute one-on-one Clarity Coaching Session (worth $125) to help guarantee your success when you register.
> Free! A copy of my e-book "Diet For Living Cancer Free/What Worked For Me" sent to your in-box right away when you register!
> Free! A copy of "Living Cuisine/The Art and Spirit of Raw Foods" when you attend class (a $25 value!).
> Free! 'Our 3 Favorite Vegan Cheese Recipes' when you subscribe to our Newsletter: http://bit.ly/dflshome
Join our tribe of 3,000 readers dedicated to learning how to live a better way today.
All this for you when you sign up for our New Year's Early Bird Sign-up Sale!
Only 2 Days Left and Space is Limited.
Check out our Program here: http://bit.ly/dflshome
Check out our Testimonial Page here: http://bit.ly/dflstestimonials
If you have questions, we are here for you. Give Us A Call: 505-243-1157