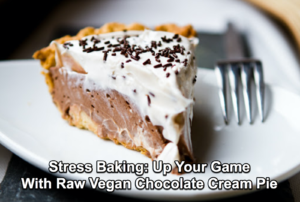 As the COVID-19 lockdown continues across the US, more and more people are inside their homes, whether because they're at high risk of becoming ill, their employers are allowing them to work remotely or they're choosing to limit contact with others in an effort to mitigate the transmission of the virus for the sake of more vulnerable populations, otherwise known as "flattening the curve".
Unsurprisingly, those who are stuck at home with no conclusive end in sight are feeling a bit stressed. "Stress baking" has taken on a life of it's own.
It may at first seem a little absurdist, the idea of baking a cake or pie during a pandemic. But we're living in absurdist times….we deserve coping mechanisms that lend some sense of structure in this chaotic world. For many of us I believe our baking frenzy connects us to a world that once made sense.
For me my love of pie goes back to my Irish grandmother. After she retired from the assembly line of Lionel Trains in New Haven, Connecticut, she was finally able to live her own life. She devoted herself to her true passion and set about feverishly baking for her neighborhood.
I spent my Summers living with her when I was young. She began her baking projects in the wee hours, when the rest of the world was still deep in sleep…a walnut coffee cake for Mrs. McGillicutty, a lemon meringue pie for Mr. McGee, who had come out of the hospital. She labored happily in flour and sugar in a time when "homemade" was going out of style.
It was my job to help her roll out the crusts and whip up the filling as she patiently guided me. When we ran out of butter, she'd call up the tiny corner store to say I was coming while I ran down the alley to collect what we needed.
Today, the world has changed, but not my love of pie from my early training. But as a cancer survivor I can no longer eat white sugar. So this is my raw version of her pie: now dairy and gluten free. I feel I would make my grammy proud.
LUSCIOUS RAW VEGAN CHOCOLATE CREAM PIE

FOR THE CRUST:
2 cups macadamia nuts, soaked overnight and drained
¼ teaspoon pure vanilla extract
1/8 teaspoon sea salt
½ cup dates, soaked overnight and drained
Coconut oil to oil the pan
Add macadamia nuts to a food processor. Mix in vanilla and salt until crumbly. Continue to process while adding the dates. Oil a 9 inch pie plate with coconut oil. Press the dough into the shell and set aside.
FOR THE FILLING:
¾ ounce Irish moss soaked overnight and drained*
1 1/2 cups fresh almond milk
2 teaspoons pure vanilla extract
½ cup finely chopped dates
6 tablespoons coconut butter
1/8 teaspoon sea salt
1 tablespoon GMO free lecithin
1/3 cup raw agave nectar
1/3 cup raw cacao (also known as raw chocolate)
On high speed blend the Irish moss with ½ cup of the almond milk until smooth and thick. Add the remaining almond milk, vanilla and dates. Blend until smooth. Add coconut butter, salt, lecithin, agave and raw cacao until well incorporated. Pour into the prepared pie crust and put in fridge until well set, about two hours.
MERINGUE TOPPING
5soft dates soaked over night
1 cup raw cashews, soaked overnight and drained
1 tablespoon pure maple syrup
1 tablespoon pure vanilla extract
Optional: ½ cup organic raspberries fresh, or thawed from frozen
Drain the dates and save the liquid. In a blender, blend cashews, dates, maple syrup, vanilla and raspberries. Add a bit of the date water, if necessary, to keep the mixture running smooth. When everything is creamy, top the pie.
Congratulate yourself! You have made a super yummo plant-based pie with no gluten, eggs or dairy!
*Irish Moss: Irish Moss is an unprocessed raw seaweed which can be used as a gelling agent without cooking. Raw Chefs favor only Wild-crafted Graciliara Irish Moss because it has no taste of it's own. Like all sea vegetables it is packed with vitamins and minerals. You can purchase it on the web at Natural Zing.
__________________________________________________
__________________________________________________

DIET FOR LIVING SCHOOL

Check Out Everything We Teach Here:
http://bit.ly/DFLCoachPrograms

Check Out Our Testimonials here:
http://bit.ly/DFLS_Testimonials

Have questions?
E-mail us at dietforlivingschool@gmail.com or call us at 505.243.1157

We are here for you.

Please Share Us With Family and Friends Also Seeking
A Career That Makes A Difference!