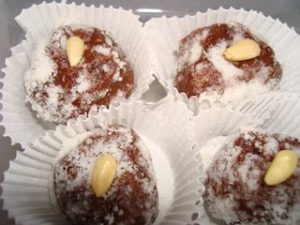 Raw chocolate goes well with chiles and red peppers. The added heat, not red hot, gives a little ping of surprise to the tongue. Rich truffles made of raw cacao are both gourmet and healthy, taking care of your needy holiday sweet. We use heart healthy raw coconut oil instead of heavy cream. This gives them a rich moist flavor you seek in the perfect truffle. Rolling them in shredded coconut or chopped nuts creates a simple finish.
I also like to give them as gifts to our forward thinking friends and family this time of year. To package, I use mini cupcake liners to cradle these little yummies. I have never found anyone who did not bite into one and smile. "Wow!" they say!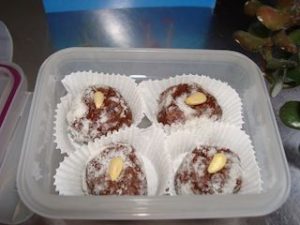 We purchase our raw cacao from the 'LiveSuperFoods' store on the Product's Page on our website. We buy in ten pound bags. We take our raw chocolate seriously. You may want to buy a one pound bag. It's raw, organic, packed with magnesium and has the highest antioxidant source known.
Here's The Recipe
2 tablespoons raw coconut butter, melted
1 tablespoon raw agave
2 tablespoons coconut flour
2 tablespoons raw cacao powder
5 finely chopped dates
1/8 teaspoon red pepper
1 teaspoon pure vanilla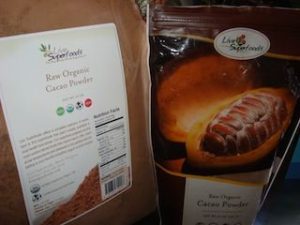 Simply mix all the ingredients in a glass bowl and form into balls. Roll the balls into finely ground coconut flour. Set into mini cupcake liners. Using a recycle box, arrange the chocolates. Give them to friends and family with love.