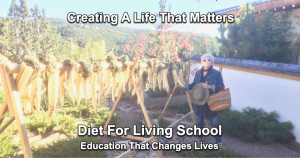 If we want to live long healthy lives, we will have to re-think what we have been taught to think. We have to be willing to ask new questions, look at the world with new eyes. And have the courage to hear the answers.
Manifesting the Life you desire is not magic. It requires releasing limited beliefs and blocks that may be holding you back. I invite you to take a goal check:
> Are You Reaching For Your Full Potential?
> What Are You Not Willing To Surrender?
> What Are You Resisting To Avoid Taking The Next Step?
> What New Things Do You Need To Learn?
> What New Habits Do You Need To Put In Place To Make That Happen?
> What Do You Need To Let Go Of To Go Forward?
To fly free, we need to stop being held hostage by the American Food System. We need to by-pass the modern packaged products as well as the junk foods that are triggers and land minds and live closer to Nature's plan for us. Those exhausted pleasure centers that were triggered daily by eating chemical filled processed foods relax. Our weight no longer yo-yo's up and down with the fluctuation of our moods. Our food cravings calm. Only then can our weight finds it's own true range. It's called your 'set point'. Everyone has one. It's part of the Grand Plan. We get to experience what it feels like to be in a body that belongs to us, the one we were gifted with when we came onboard the planet. With time we heal, we become free, we become whole. Anything else is called 'out of balance', a charade blocking us from our authentic selves.
When we refuse to play the 'Big Food' game it's then that we get to affect the course of history. As caretakers of generations to come, we put an end to the cycle of self hate of our bodies and our relationship to food, for ourselves, our children and everyone we help and mentor. When we give back to our communities as Health Coaches, guides and educators, everyone benefits.
Putting Self Love to Work
For years pioneering natural nutrition healers have known that a period of deep detoxification using living plant-based foods in nutrient dense combinations have the ability to reverse many of the diseases the population now suffers. A breaking away from what is harming you is the ultimate self-love action step. A return to foods close to Nature allows the body to cleanse, repair and rebuild simultaneously: a three pronged approach.
Detoxification gives us permission to take time out, allowing us to listen to our hearts, tune into our inner wisdom and take action from there…..it's a looking within to grow and evolve.
The Three Phases Of Detoxification
Phase One: a period of deep detoxification. Many diseases are a direct consequence of a life long diet made up of mostly processed, fatty foods with hidden sugars. These foods are grown in depleted soil, fertilized with chemical-laden sludge and sprayed with many more chemicals to slow the ripening process for shipment. This is a man-made approach to life. These foods in no way touch on the divinity of our true nature.
The first step is to address freeing the body from it's toxic burden. Detoxification is based on consuming predominantly alkaline foods in their purest form: clean, fresh, organic, 100% living plant-based and enzyme rich, as well as the use of unpasteurized fermented foods for colon repair.There is a lot of liquid in a detox cleanse. Liquid disrupts stagnation. The gentle rhythm of cleansing is an empowering act. This part of healing is addressed slowly, with self-love, gentleness and kindness. We bath our bodies in organic oxygen rich fresh-pressed juices and consume simple living foods so that the toxins are released at a safe pace.
Phase Two: is adding more complex, nutrient dense Raw Vegan foods to the diet while continuing to aid the cleansing process and re-establish the body's alkaline reserves. The adding of Live Superfoods addresses the rebuilding of a compromised immune system. Daily consumptions of pro-biotic rich fermented foods heal the colon. Nutrient specific whole foods restore, renew and rebuild exhausted systems in the body according to Nature's miraculous plan for us.
Phase Three: is the understanding that detoxification is not a way of life. It's a healing modality. A precious, organized tool to restore balance and order in the body. Phase Three is the continuation of the adventure: a dedication to keep learning, keep improving as a life long commitment. This is where we may transition back into eating a diet of 20% healthy cooked foods and 80% living foods from a place of trust in Nature's process and the part we play in it.
Detoxing means getting deeply involved with our own healing. It's a journey from disconnection to connection.
TODAY'S MIGHTY ANTI-CANCER FOOD
My fascination for eating living foods never stops. I studied with a Japanese woman and she taught me how to make Tukuan-zuke, a traditional Japanese pickle often enjoyed at the end of the meal to aid in digestion. The Japanese do not cook or can their pickles. Tukuan-zuke is made by first hanging the daikon radish in the sun with it's leaves on for a few weeks until it becomes flexible. It is then pickled in a crock. The picture I used this week is me in front of Daikon radishes drying in the sun. I was delighted to find them in front of a restaurant in Santa Fe, New Mexico.
Like cabbage, broccoli and kale, Daikon is in the almighty cruciferous family of vegetables. To preserve it's anti-cancer compounds, crucifers are most beneficial when eaten raw. Here at Diet For Living School we also eat daikon sprouts. Sprouting actually increases the nutritional value of foods. A seed contains more concentrated nutrition than the plant which it will grow into.
WANT TO KNOW MORE ABOUT USING FOOD AS MEDICINE? 
BECOME A HEALTH COACH AND EDUCATOR THAT IMPROVES
THE LIVES OF OTHERS
Here is a sneak peek into our 7 Day 'New Year's Super Sale' beginning October 28.  THAT'S TOMORROW!!!!!
Get Ready to save big $$$ on the Program and receive bonus gifts. You'll have to hurry to register. Space is limited.
Receive These Wonderful Gifts when you register during our SUPER SALE:
> $500 off the total price of your tuition!!!! Wow, right? We want to give you all the incentive you need to get healthy, help your family become healthier and bring that knowledge to your community to build a successful career.
> Free! 45 minute one-on-one Clarity Coaching Session (worth $125) to help guarantee your success when you register.
> Free! A copy of my e-book "Diet For Living Cancer Free/What Worked For Me" sent to your in-box right away when you register!!
> Free! A copy of "Living Cuisine/The Art and Spirit of Raw Foods" when you attend class (a $25 value!).
> Free! 'Our 3 Favorite Vegan Cheese Recipes' when you subscribe to our Newsletter. Join our tribe of 3,000 readers dedicated to learning how to live a better way today.
All this for you when you sign up for our New Year's Early Bird Sign-up Sale beginning October 28.
If you are heart centered yet mission driven, check out our wonderful three month Program here: http://bit.ly/dflshome
Please Share This Post With Anyone Looking For A Career That Makes Sense!