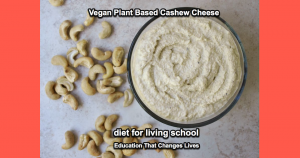 When you tell people you eat a great percentage of your foods Raw, you often get two responses: Open curiosity or shut down tight fear. "How will I get my protein?" they ask, panicked. Fair enough question. Protein is essential. Without protein, our bodies cannot function properly.
Yet the fact is, as Americans, we have been getting too much protein from animal products. It has begun to turn on us, causing inflammation and raising numbers of heart disease, arthritis, osteoporosis, cancer and Alzheimer's. Often protein rich greens, nuts and seeds give us just the right amount in a natural alkaline form.
I love cheese and I would hate to do without it. That is why I am deeply into vegan, dairy-free cheeses that are heart healthy and exciting to the palate. Cruelty free fromage, with no additives or chemical binders. Just pure natural ingredients. I do better on these foods.
This plant-based cheese recipe I am going to share with you uses 'Farm House Gut Shot-Classic Caraway Kraut Juice'. You can find it in most health food markets. Using fermented cabbage juice in your nut cheeses ups the probiotic content of your cheese by up to 20 billion live cultures or colony forming units, making this an important go to food for building a healthy colon environment. An important goal if we are to fight diseases like cancer.
DIET FOR LIVING SCHOOL FERMENTED PLANT-BASED CHEESE
1 cup Raw organic cashews soaked over night
½ cup Farm House Gut Shot-Classic Caraway Kraut Juice
1 tablespoon extra virgin coconut oil
pinch of sea salt
Drain the cashews. Add cashews, kraut juice and sea salt to a high powered blender and turn up slow to incorporate. Add the pinch of salt and extra virgin coconut oil. Turn the mixture up on high and blend till creamy. Store in the fridge in a Mason jar. Use as a cracker spread, carrot stick dip, even on top of sweet potatoes instead of sour cream. YUM!
BECOME EDUCATED IN A GROUP OF LIKE MINDED PEOPLE
Would you like to maximize your impact as a healer?
At Diet For Living School we teach you how to support cancer clients with holistic, contemporary and alternative therapy at any stage in their cancer journey In our 'Certified Holistic Cancer Coach Training'.
We teach you the practical science as to how and why these powerful foods allow the body to heal so that you can be a confident educator.
If you have been touched by cancer in any way, this training is for you.
Check out everything we have to offer here: http://bit.ly/dflshome
Please Share Us With Family and Friends. That's How We Grow a Movement!