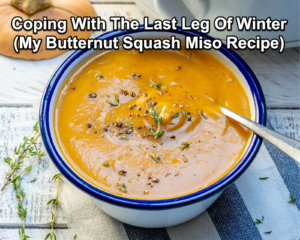 I'm not sure what the hardest month of the year is …today I'd say it's right now…the last weeks of February. I feel like Winter has gone on forever, testing my coping skills. I can't even sit on the porch and watch the world go by with the cold and wind.
After laying low for months, it can make you a little dingy waiting for Spring. You feel a bit stir-crazy, also known as cabin fever. "Cabin Fever is not directly fatal to an individual suffering from this disorder" says Wikipedia. "However, related symptoms can lead to the sufferer making irrational decisions". Yup, that about names it. I want to cut all my hair off just for the hell of it and hit the open road, "running to just be on the run" says singer/songwriter John Prine.
I want to plan and book a big trip, but the whole globe is on lock down from the virus. A good time to stick close to home, exacerbating my feelings of cabin fever. I am a Pitta dosha. We have a lot of fire…very helpful when your trying to get a project done, but potential trouble if not managed during the Winter….We get taken out of alignment in small ways all the time that can chip away at our personal healing journey….
My Ayurvedic guru Maya Tiwari, who I look to for wisdom at such times, says "Transitioning the season as a pattern may seem tedious, yet it possesses great rhythm". Thank god for wise women. She always explains life as an opportunity. And so I breathe deep, do my yoga, and make my miso soup to ground me while the season crosses over to the next.
MISO SOUP TO THE RESCUE
I have a deep love for miso soup. Although the Japanese drink it for breakfast, lunch is best for me. My favorite miso is South River Miso, a heroic family owned artisan miso company located in the foothills of the Berkshire Mountains of Massachusetts. Christian and Gaella Elwell have been creating miso in the Japanese farmhouse tradition for 30 years after both of their father's died young from cancer. These people don't kid around when it comes to authentic. My go to food (life raft) for grounding during cabin fever. Their misos are pure love in a jar.
BUTTERNUT SQUASH MISO SOUP: REKINDLING
OUR INTRINSIC ABILITY TO HEAL OURSELVES…..
Yellow foods top my list during the Winter season. This recipe for Butternut Squash Miso Soup is made with South River Chickpea Miso. In the Food As Medicine Healing System we don't eat beans unless they are fermented. The fermentation process "pre-digests" the beans, releasing nutrients and making them easier to digest, eliminating gas and bloating. The fermentation process also turns the beans into a live food brimming with colon friendly beneficial probiotics. With 75% of the immune system in the mucosal lining of the colon, immune boosting foods are so important during this time of year.
INGREDIENTS:
> One small organic butternut squash
> Vegan Rapunzel Vegetable Bouillon
> 2 cups water
> Juice of fresh lemon
> South River Chickpea Miso
RECIPE:
> Peel one small Butternut Squash and add to sauce pan with filtered water
> Boil on high for about 30 minutes, till soft
> Drain the squash and set aside
> To a high powered blender add ¼ cube Vegetable Bouillon, a squeeze of fresh lemon, ¾ cup of the squash and 2 tablespoons miso paste
> Cover with water and blend till creamy
> Add the rest of the water and blend again
> This is the tricky part: Add soup to a saucepan to warm, but only gently, because high heat kills off all the important benefits of the miso. If you have a Vitamix you can heat it by blending for 5 minutes.
> Place the soup into a cup or sipping bowl and savor the goodness!!!
WANT TO KNOW MORE ABOUT USING FOOD AS MEDICINE
AND HOW IT CAN HELP HEAL MANY CHRONIC DISEASES,
INCLUDING CANCER?
__________________________________________________
_________________________________________________
DIET FOR LIVING SCHOOL

Check Out Everything We Teach Here:
http://bit.ly/DFLCoachPrograms

Check Out Our Testimonials here:
http://bit.ly/DFLS_Testimonials
Have questions?
E-mail us at dietforlivingschool@gmail.com or call us at 505.243.1157

We are here for you.

Please Share Us With Family and Friends Also Seeking
A Career That Makes A Difference!