For 10 years Diet For Living School has been home base for the world's best Certified Health Coach Program, our Certified Holistic Cancer Coach Training and our 700 member ABQ Raw Vegan MeetUp Group. We are Board Certified by the American Association Of Drugless Practitioners (AADP).
Our biweekly Diet For Living Newsletter is a wellness trailblazer with a loyal readership of over 3000 subscribers, a source of exceptional information on the wellness revolution.
To learn more about about who we are, read Paula's life changing ebook Diet For Living Cancer Free: What Worked For Me. It will open your eyes to the powers of healing the body with Detoxification Therapy and Lifestyle Change!
Health Coach Classes
Our classes are where it all begins. Working together with like minded people creates great strength, power and possibility. Beautiful friendships develop. We learn we're not alone. Return home with new thoughts and new connections, ready to put your own unique gifts to work to reshape the world we live in.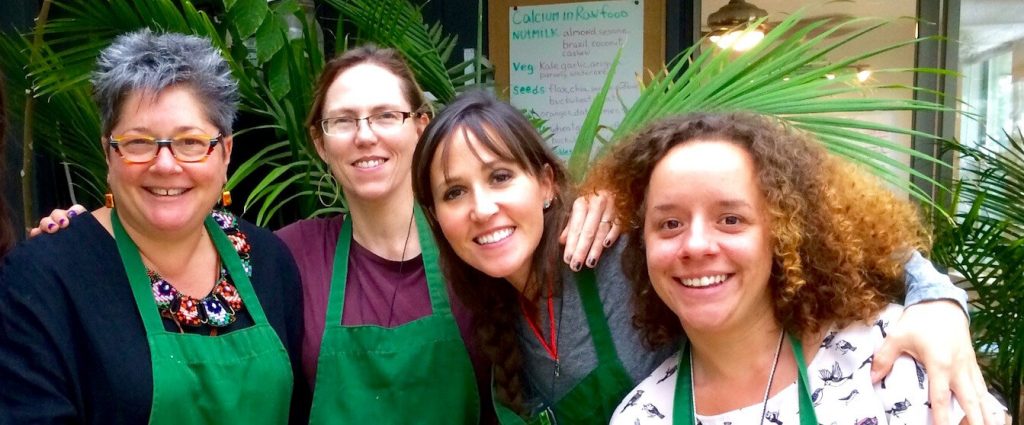 Located in Albuquerque, New Mexico
Diet For Living School is located in the beautiful Southwest city of Albuquerque, New Mexico. Our area has a long tradition of healers and healing arts. Most have been drawn by the blue skies, clean air and high desert landscape. Our city has a strong focus on alternative health and wellness, making the area very conductive to the study of healthy living.
The Neighborhood
Nob Hill Shopping District is a mile from the school. It's a charming and active area with many restaurants (including Vegan), shops and the La Montanita Co-op, our community owned Cooperative Food Market with healthy groceries, produce and deli. We are two miles from Whole Foods Market.
Because our students come from all over the world, we are located close to the Albuquerque International Airport. We are 2 hours by air with direct flights from major flight hubs LAX, SAN, DEN and DFW. This is for the convenience of those students able to spend only a short time in our city while receiving their education. On our FAQ page we provide a list of motels within a five block walk from the school to make it easy for you to attend class. The motels range in price from $40.00 to $99.00 .
Many of our students decide to stay and vacation in the Southwest. Albuquerque is the hub for excursions to Santa Fe (by the RailRunner train!), Native American cultural areas and pueblos such as Jemez and Acoma, local unique geological sites such as Tent Rocks and Carlsbad Caverns, and much, much more! Just outside of Santa Fe is '10,000 Waves', a traditional Japanese spa with massage and hot tubs, perfect for relaxing. Our surrounding mountains are perfect for day tripping or extended visits.