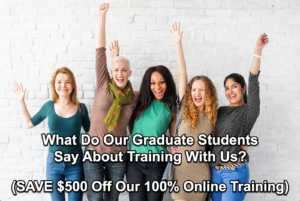 I know many of you have considered becoming a Health Coach. You know without a doubt that you have so much to offer the world, but you may feel unsure, or even stuck. Fears arise, such as Am I too young to be believed….Am I too old….Am I too late…What if I take a chance and no one listens to me…How do I even choose the right school for me?
I would never promote a business or brand I don't believe in. However I might be just a little biased when promoting our Certified Holistic Health Coach/Cancer Coach Program. So here are several student testimonials to help you feel more confident to take the leap to train with us:
MONICA WILLIAMS: BIRMINGHAM, ENGLAND
"Diet For Living School's Food As Medicine course, taught by Paula Diana, is a must for those who would like to pursue a career in the Wellness Industry. Join like minded people who really want to make a difference in their lives as well as the lives of others. Best choice I ever made".
GWEN GOLDSMITH: ALBUQUERQUE, NEW MEXICO
"As a Colon Hydrotherapist, I felt I needed to go deeper into how and why certain foods heal and Paula took me on that journey. I feel this training has taken me to a whole new level as an educator. I now feel that I can confidently guide my clients toward the healing they seek."
CHRIS TRANER: SAN DIEGO, CALIFORNIA
"Paula, I love that you integrated your own healing quest into the training. Encouraging me to first create my own healing journey has helped me be a strong educator for others. Not only am I motivated to help others, I'm motivated to first help myself and be well and whole again. It was such a privilege and joy to be in this class of beautiful like minds working together with common purpose making everything easier. Working as a team contributes to the whole 'community feeling'. It is a healing environment that allows growth for everyone. Invaluable!"
JULIE ALLMAN: FT. WALTON BEACH, FLORIDA
"I have been working hard since our class to learn as much as I can and try lots of food recipes. I just wanted to let you know I appreciated all you did for our class and have studied your workbook over and over. I have been wanting to teach and now have two trainings under my belt. I would not be doing this without the information and encouragement you and your class provided. Thank-you for your leadership."
CLICK FOR MORE OF OUR TESTIMONIALS HERE
___________________________________________________________
___________________________________________________________

ONLY 4 MORE DAYS LEFT!
OUR CERTIFIED HOLISTIC HEALTH COACH/CANCER COACH
SUPER SALE ENDS FEBRUARY 11!
 
If you are seeking a career that:
> Impacts every area of your life.
> Guarantees your personal growth.
> Connects you to an incredible community that inspires you.
> Pays well, feels fulfilling and makes a meaningful difference.
SIGN-UP NOW for our SPRING 2020 Training and get $500 off the complete price….Have your new business up and running in 2020
TAKE ADVANTAGE OF OUR SUPER SALE AND GET THESE FREE GIFTS WHEN YOU REGISTER. YAY! WE ALL LOVE GIFTS!!!
> FREE! A Copy Of My E-Book Creating A Life That Matters Sent Straight To Your In-Box.
> FREE! A Copy Of My Five Star E-Book Diet For Living Cancer Free/What Worked For Me Sent Straight To Your Inbox.
> $500 OFF the total price of your tuition!!!! WOW, Right?

ONE MORE THING: Diet For Living School is Board Certified by the globally recognized American Association Of Drugless Practitioners. This means upon graduation you can apply for further certification from the AADP if you choose.
A $300 Deposit Will Assure That You Receive The Training That Will Change Your Life. You Do Not Want To Miss Out On Getting A Spot!

FIND OUT MORE HERE: http://bit.ly/DFLCoachPrograms

WHAT OUR GRADUATES SAY HERE: http://bit.ly/DFLS_Testimonials

Have questions?
E-mail us at dietforlivingschool@gmail.com or call us at 505.243.1157

We are here for you.
Please Share Us With Family and Friends Also Seeking
A Career That Makes A Difference!