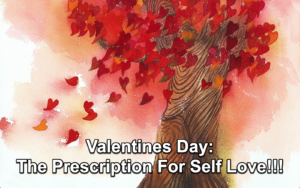 We talk a lot in our Diet For Living School training about creating your own Healing Journey. How do you begin with your own healing journey? Not with a liquid juice fast or starvation tactics. And of course, not with guilt or kicking yourself around the block. There is limited self love in that.
The Healing Journey begins by looking at your life. What would you give to be present in a body you truly love….To never go one more day over-weight or miserable….To no longer suffer from inflammation or mystery pains….To not feel like you are one step from a nagging chronic disease.
In short, to be in control of your life….To be at peace with yourself….To experience true self love.
A VALENTINE'S DAY GIFT TO YOURSELF

Self love in our culture has been conceptualized as a moral flaw, akin to vanity and selfishness. Synonymous with an inflamed ego. Overactive narcissism. This thought process is sooo, sooo narrow…..
Self love is such a deep concept. It's all about setting you intention on gaining strength and wisdom. When we hold ourselves in high esteem, we are more likely to choose things that nurture our well-being. A giant step in the process….
Self love is not simply a state of feeling good. It is a state of appreciation for oneself that grows from action steps that support our physical, psychological and spiritual growth. When we act in ways that expand self love in us, we have more compassion for ourselves as human beings.
5 STEP PRESCRIPTION FOR SELF LOVE
> ONE: ACT ON WHAT YOU NEED RATHER THAN WHAT YOU WANT. There is much advice suggesting that all self love takes is being good to yourself. OMG! In the past I may have interpreted that to mean a nightly party of Kahlua with chocolate. The human brain can be a great saboteur. Yet by staying focused on what we truly need, we turn away from automatic behavior patterns that get us all into trouble and lessen our self love. When you make a list of what you really, really need you have a clearer guidance system for the long game.
> TWO: PRACTICE GOOD SELF-CARE. You will love your self when you take better care of your basic needs. This may require that you kick it up a notch. Hydrate, nourish, hydrate. Practice the daily non-negotiables: Green goddess salads and green smoothies daily. Pure water everyday all day. Eat live fermented foods. Step away from processed packaged foods. Eat the real thing. Read labels: When the ingredients are chemicals we can't pronounce, research and ask questions. Commit to keeping your self safe. Kick white sugar. This legal drug robs your body of minerals, lowers your precious pH, flares up inflammation, screws with your normal hormone function big time…..be willing to invest in relearning what real health foods are.
> THREE: SET BOUNDARIES. You'll love your self more when you learn to set limits or say no to anything you have found that depletes or harms you physically, emotionally and spiritually. Get comfortable with the word 'No' for yourself and others. Step away from people who feel comfortable with whining and complaining…..deeply bless them, then gracefully walk away into the sunshine……
> FOUR: PROTECT YOUR SELF. Avoid "Frenemies" who take pleasure in your pain or loss rather then celebrating your happiness and success. You will love and respect your self more when you surround your self with a tribe of people that support your needs to stretch and grow. As your self love expands you will attract and seek out people that want the best for you.
> FIVE: LIVE LIFE INTENTIONALLY: This is Huge. If your intention is to live a meaningful and healthy life you will make decisions that support that intention and feel good about your self when you succeed in that purpose. Hooray!!!! You will love your self more if you see your self accomplishing what you set out to do in this life. Get out there and do the thing that lights your fire!!!!!
WHEN TO GET STARTED
Self love is a seed that you plant and grow over time. If you have not already begun your Healing Journey, Valentine's Day is a great starting point. Shower your adult self with kindness and care. Then Valentine's 2021 you can look back and mark your growth and continue on loving you…..
__________________________________________________
_________________________________________________

DIET FOR LIVING SCHOOL
Check Out Everything We Teach Here:
http://bit.ly/DFLCoachPrograms

Check Out Our Testimonials here:
http://bit.ly/DFLS_Testimonials
Have questions?
E-mail us at dietforlivingschool@gmail.com or call us at 505.243.1157

We are here for you.

Please Share Us With Family and Friends Also Seeking
A Career That Makes A Difference!