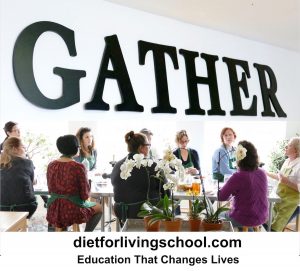 REASON NUMBER ONE: You can make a difference in the world. You can do something beneficial, make good $ and be yourself all at the same time. You don't have to compromise your core values. This has been extremely important to me.
REASON NUMBER TWO: Health is Wealth. This is a career path that allows you and your family to become healthier. Not only are you helping clients lead a healthier lifestyle but you can absolutely and wholly apply that knowledge to your own life as well. The good you want for others is also the good that's meant for you. (It's a win-win for everyone!).
REASON NUMBER THREE: Many once thought of college as the end of the traditional learning cycle. Today, however, continuous education, or 'life-long learning", is touted as an essential and imperative ingredient for a long and fulfilling life of value. On-going learning keeps the mind sharp and is like a health club for the brain (without the monthly dues!).
If you would like to get healthier and become an educator that makes a difference, you will want to attend our next Certified Health Coach Program. Our training provides you with hands-on education so that you feel totally confident to teach your clients and students how to make the powerful detox foods that heal. When you return home, we also provide you with our on-line business building skills specifically designed for the coaching community. Let us mentor and guide you while you hone your expertise. Feel safe, heard, nurtured and supported wholeheartedly while you create the business you have always dreamed of.
Check out our exciting program here: http://bit.ly/dflshealthcoach
BECOME A CERTIFIED HEALTH COACH!
Your Commitment To Yourself
Signing-up now is a commitment to yourself and your future. As with any new endeavor, preparation is essential:
> Prepare for what no longer serves you to drop away.
> Prepare for more awareness.
> Prepare to inspire others.
> Prepare for your dreams to come true.
> Prepare for a new life and a new power to come through you.
> Prepare for 2017 to be your Best Year Yet!
If you are called to learn a new way to live while creating a career that has meaning you will want to join us for our Fall 'Certified Health Coach Program'  http://bit.ly/dflshealthcoach
Our mission: To get as many people as possible excited about holistic healing. To help encourage you to take this step forward, we have our spectacular 'Fall Give Away' going on right now! Save on your education and get plenty of free gifts to help you get started.
LAST DAY! Receive These Wonderful Gifts when you register:
> $300 off the total price of your tuition!!!! Wow, right? We want to give you all the incentive you need to get healthy, help your family become healthier and bring that knowledge to your community to build a successful career.
> Free! 45 minute one-on-one Strategy Coaching Session (worth $125) to help guarantee your success.
> Free! A copy of my e-book "Diet For Living Cancer Free/what worked for me".
> Free! A copy of "Living Cuisine/The Art and Spirit of Raw Foods" when you attend class (a $21.95 value!).
> Free! Our 3 'Favorite Vegan Cheese Recipes' when you subscribe to our Newsletter. Join our tribe of 3,000 readers dedicated to learning how to live a better way today.
All this for you when you sign up during our sale for our Fall 'Certified Health Coach Program'.
If you are heart centered yet mission driven, check out our wonderful three month Program here: http://bit.ly/dflshealthcoach
Check out how much our students love this training on our Testimonial Page here: http://bit.ly/dflstestimonials
If you have questions, we are here for you. Call Us: 505-243-1157
In Faith For A Better Tomorrow
Paula Diana/Co-Founder
dietforlivingschool.com
Education That Changes Lives
Please Share This Post With Anyone Looking For A Career That Makes Sense