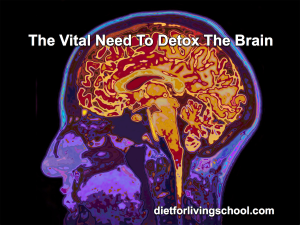 Generally speaking, in just the fifth week of conception, the brain begins to form. Why so early? Because without it, nothing happens.
The brain is central to all functions. When it is not on board and in tip top form, all other functions lose their way. Research has discovered that the brain may be command central but it has a symbiotic relationship with all the other systems in the body as well as with the foods we eat and the habits we keep. When they are not in balance the brain loses its way. When out of balance all the brilliance in the world won't save us.
THE BRAIN: A COMPLEX ORGAN MADE SIMPLE
The brain is primarily made of fats. Don't freak out on me, but the brain is nearly 60% fat and is, in fact, the fatty-est organ in the body (surprise! it's not our butts!).
Like all other organs in the body, the brain relies on detoxification. While we sleep, it clears out harmful toxins, a process that is now believed to reduce the risk of early Alzheimers. During sleep, the flow of cerebrospinal fluid in the brain increases dramatically, rinsing away harmful wastes and proteins that build up between brain cells during waking hours.
When does the brain do its grand nightly cleanse? Between the hours of 11 pm and 2 am. That is why it is so important to be winding down by 9 and be sacking out by 10. During the day the brain swells with thoughts and activity. Deep in the night the brain relaxes, drains, flushes and flushes again. A mighty pumping action that leaves us fresh for a new day of activity.
SABOTAGING THE BRAIN

> SUGAR: Want to live a long brilliant life? Refined sugar has gotta go. That's not just sweets…that includes refined wheat that turns into sugar in the blood stream within seconds. Excess sugar irritates and eats away at neuron fibers, causing the brain to deteriorate. 65% of people who suffer from diabetes, a food related disease connected to how the body metabolizes sugar, in time are diagnosed with Alzheimers.
> SKIPPING OUT ON DRINKING WATER: The brain is 75% H2O. So it's no surprise that dehydration has a dramatic effect on brain function. The body does not make water; it is dependent on replenishment. A dry brain can not flush nightly. A dry brain can not rinse away toxins and built up proteins, such as amyloid plaques. A dry brain creates constricted pathways. Constriction prevents free flow. Efficient cleansing is dependent on free flow of fluid through all the pathways in the brain.
> EATING INFLAMMATORY FOODS: Your brain swells from the consumption of inflammatory foods. The Standard Western Diet is loaded with inflammatory foods. Swelling creates lack of space. Lack of space means the midnight pumping of fluids that cleanse the brain cannot flow smoothly through the passageways of the brain. Brain fibers get sticky and gunky. Continue this all through your 30's, 40's and 50's, and it makes perfect sense why every 66 seconds someone in America is diagnosed with Alzheimers.
> EATING NON-ORGANIC: I know I am a harpy on this subject, but the 3000 chemicals allowed into our food system are no friends to the brain. They are highly inflammatory and corrosive to the brain's neurons. When we begin to respect the extreme importance of eating foods free of chemicals I believe the out of control numbers of people diagnosed with Alzheimers will reduce rather than continue the current explosion. (I also believe this applies to the 80,000 people diagnosed with primary brain cancer every year).
> LATE NIGHT EATING: The body as a whole is designed to digest food during the day and cleanse while we sleep. Late night fridge raids disrupt this ingenious process. Also, of course, late night eating is seldom a green smoothie. The raid foods tend to be the no-no foods. If this is a problem for you, you may have to have a conversation with yourself and say "no thank-you bad habits, I need to drain my brain. I have new priorities!"
WORKING WITH THE BRAIN
Why do I have great faith in this information? Because before I was diagnosed with cancer my lifestyle habits were contrary to every law of Nature. I drank coffee to hydrate, I ate plenty of foods made of refined wheat, which, along with sweets, were my favorite foods. I was sloppy when it came to buying organic foods. My husband Joseph was a night nurse. I waited up for him to come home until one or two o'clock in the morning . And although this sounds so endearing, these lifestyle habits began to take a toll. Over time, my brain became foggy and, eventually, I could barely string three words together to form a sentence. It was scary. At the time, I just thought I didn't have a good memory. But, turns out, I was not cooperating with Nature. When I began to drink water, go to bed by nine and give up all the inflammatory foods, my brain could then work its magic. Today my memory is better than it was when I was 20. I am humbly thankful that my body was so forgiving.

__________________________________________________________
__________________________________________________________

Diet For Living School
'Certified Holistic Health Coach/
Cancer Coach Program'

Check Out Everything We Teach:
http://bit.ly/DFLSHealthCoach
Here is what Monica Williams from Birmingham, England says about her training with us:
"Diet For Living's Food As Medicine course taught by Paula Diana is a must for those who would like to pursue a career in the Wellness Industry. Join like minded people who really want to make a difference in their lives as well as the lives of others. Best choice I ever made!"
Join us for this enlightening educational
experience as together we create a
healthier, happier, more fulfilling world.
What Our Graduates Say About Our Program:
http://bit.ly/DFLS_Testimonials
We Offer An Education That Is Engaging, Powerful
And Transformative For You And Your Clients!
Sign Up For Our Newsletter HERE To Keep Up With
The Latest Health News And Our Sales and Promotions.
Have questions? E-mail us at dietforlivingschool@gmail.com or call us at 505.243.1157
We are here for you.
The Best To Your Success
Diet For Living School
Education That Changes Lives