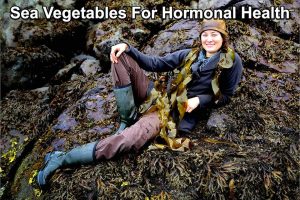 Girls begin their period between the age of 10 and 18, the average age is 13. We continue to menstruate until about 45, when we enter pre-menopause. Hormones are our major influencer through this long period in our lives. Since we menstruate about every 28 days, that means we are awash…. brimming over…. in hormones. Understanding how to keep this important system in the body nourished is the key for hormonal happiness.
What is hormonally normal varies greatly with regards to each woman, but what holds true for all of us is that when our reproductive hormones are out of whack, the signs are glaringly obvious. Irregular periods, mood swings and weight gain, just a few of the many loud and clear signs that something is off in the endocrine department.
Then comes pre-menopause, which may present as hot flashes, night sweats, increased anxiety and difficulty concentrating. Again, we are drenched in hormones. Women have so many different symptoms because estrogen is used by so many parts of the body.
Yet for all the dominate effects hormones have on our lives we know very little about these chemicals that can bounce us from pillar to post. To make it as simple as I can, hormones are substances that help regulate processes in the body. Hormones, controlled by the brain, are secreted by glands and travel to their target organs in the bloodstream. The hormonal human anatomy is one of the most complicated and intricate in the body, so I want to keep it short. Because whatever your circumstances, whatever phase of life you are in, in the 'Food as Medicine Diet', the protocol is the same…..creating balance with foods that get things back into harmony.
Nothing in the natural world is as powerful for balancing female hormones as sea vegetables. Sea vegetables, also known as seaweeds, have been valued and eaten for millennia all over the world. Obtaining it's nutrients from the ocean floor, it is packed with up to 38% protein and bio-available vitamins A, C, E, B1, B2, B6, and precious B12. Sea Vegetables contain twenty times the mineral content of land vegetables and are abundant in essential minerals, especially calcium, iodine and iron. Just what our hungry hormones need for maintaining equilibrium. No over the counter processed supplements. Just the ocean's multivitamins ready to be absorbed by the body. As though that is not enough shine on one food source, seaweed has been found to prevent free-radical damage and bind to heavy metal toxins and eliminate them from the body.


AIM FOR HARMONY….
The first step is to clear the kitchen of inflammatory processed foods. These foods often are chemical laden, which are hormone disruptors. Be ruthless…stock up on clean foods that are hormone balance supporters!
Add sea vegetables to your kitchen. Seaweed is the ultimate female centric food. During our hunter-gather period women were the first seaweed collectors. It could be done in shallow pools while caring for infants and children. The children could play with shells, periwinkles and chase birds. Women of all ages would set out to collect the mineral rich gifts from the sea, dry them in the air and use as a natural supplement throughout the year.
All intertidal women in every culture have always made use of sea vegetables. It is part of our female heritage. An ancient commodity, scientists have theorized about a "kelp highway", facilitating migration from Japan, along Siberia, to Alaska.
In some parts of Korea, women still dive into the frigid waters way past the age of 50 to collect the deep water iodine rich kelp. Well known as a "raucous bunch" throughout Korea, their hardiness matches their spirits.
Japanese women, who have always been surrounded by the sea, are avid sea weed collectors. Their diet is intermixed with culinary creations made from nori, arame, wakame and kombu.
Traditional Canadian indigenous women and Inuits, who live on river banks that empty into the cold Pacific Ocean, have always supplemented their family's diets with sea vegetables.
From the 1889 painting by artist Paul Gauguin 'The Seaweed Gathers', we are assured that women have been continuously collecting seaweed since memory on the grey cold coast of Brittany.
I found more evidence in black and white photo prints from the 1800's of women still collecting seaweed on the northern shores of Ireland. Women burning seaweed to make kelp powder was one of the oldest traditional industries to flourish around the coast of the island. In the Spring, after a north-eastern gale, seaweed would lay thick on the rocks, ready for gathering. Then the hard work began of hauling it for drying, then heating it in kilns to burn it down into kelp powder to be sold for making pure iodine.
Irish myself, I am always pulled to salt marshes, tidal pools and crashing waves. As a child I was called by stories of mermaids and the mermaid myths of beautiful sea women, only half human, with sensuous crowns of kelp adorned on there heads.

HOW ON EARTH DO I EAT SEA VEGETABLES?
Sea Vegetables, sometimes called sea lettuce, comes in many varieties. Some of my favorites are dulse, nori, wakame and kelp.
> DULSE: Organic 'Wild Atlantic Dulse' or 'Dulse Flakes', can be added on top of salads or soups. High heat destroys the important vitamins and minerals, so add it to soups last, just before you are ready to eat and your soup has cooled down a bit. This is my husband Joseph's favorite sea vegetable. He orders it in 10 pounds bags from 'Maine Coast Sea Vegetables' in case the world should end and we can't get more. Bless his heart, big time…….
> NORI: Nori comes in dried sheets. You want to make sure it is not toasted or you lose important vitamins and minerals needed for balance. I like to use kitchen scissors to cut it into small strips to top my salad. This is my favorite. It is mild and I love the little slivers dressed on top of greens.
> WAKAME: This Japanese seaweed makes a wonderful salad. You may have had it in a Japanese restaurant as 'Seaweed Salad'. Wanna go deeper? Google up wakame salad recipes for a favorite that speaks you and dive in.
> KELP: Giant Kelp is one of the largest plants in the world, and stands like an underwater tree with its root attached to the mineral rich sea floor. This sea vegetable has a strong taste. If you are a road warrior go for it. I prefer to mix it in the soil I grow my greens in. Your food is only as potent as the soil it is grown in. I like this delivery system. (check-out 'BushDoctor Kelp Me Kelp You' seaweed plant food).
The Japanese also use kelp sheets called 'kombu', soaked in rice vinegar, drawing out the minerals to make an array of uncooked vegetable pickles. I trained with a Japanese woman who taught me to make her childhood pickles this way. The craft of using mineral rich seaweed is old, old knowledge and I felt privileged to learn.
There is still more to discover. I've yet to taste "Barnacle Coast To Kitchen Sea Verde Kelp Salsa", made from fresh Alaskan bull kelp. But I'm working on it. OMG, kelp salsa!…. how 'wild' is that!
If you want to stretch your imagination check out 'Barnacle Foods' face book page……the pictures of these kelp crazy people hand harvesting rain or shine and making food products off the coast of Alaska are so gorgeous and so much fun……
Want to learn more about
using Food As Medicine…?
________________________________________________
JOIN US APRIL 10, 2019 FOR OUR NEXT
                        'CERTIFIED HOLISTIC HEALTH COACH PROGRAM'
Check Out Everything We Teach:
http://bit.ly/DFLSHealthCoach
If you are looking for a Program that helps you take your clients to the next level, while cheering you on as you grow as an educator, you have found your new tribe.
What Our Graduates Say About Our Program:
http://bit.ly/DFLS_Testimonials
Have questions?
E-mail us at dietforlivingschool@gmail.com or call us at 505.243.1157
We are here for you.
Please Share Us With Family and Friends Also Seeking A
Career That Makes A Difference!
Join Us Today For A Better Tomorrow!
The Best To Your Success
Diet For Living School
Education That Changes Lives