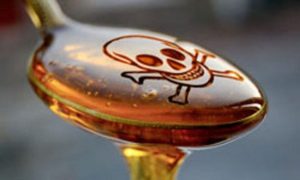 Since the 1970's, High Fructose Corn Syrup has been the darling of the food industry because it is sweeter and cheaper then regular sugar. Also know as HFCS, it has skyrocketed in recent decades as the sweetener that has replaced sugar in many processed foods. You may already know that this sweetener is a serious threat to health on its own, contributing to the 30 million cases of diabetes in America. But what you may not know is that HFCS is processed in a mercury bath. In making High Fructose Corn Syrup, caustic soda is used, among other things, to separate corn starch from the corn kernel. To accomplish this, the corn sits saturated in a mercury soda bath. What you probably do know is that mercury is toxic in all forms to humans.
High Fructose Corn Syrup is an insidious chemical that has crept into our food supply over the last decade. The population presently consuming the most High Fructose Corn Syrup are infants, children and teens. HFCS is found in plain sight in sweetened beverages, infant formula, breads (even wheat), cereals, granola, breakfast bars, lunch meats, yogurts, soups, sodas, pancake syrups, ketchup, crackers, processed-flavored oatmeal, commercial peanut butters, carton juices and flavored milk. And this is only the short list. For adults, that can extend to tea drinks, coffee drinks, alcohol mixers, cottage cheese, salad dressings and "weight-loss" bars, that are often literally dipped in HFCS.
12 years ago, Dr Renee Dufault, author of 'Unsafe At Any Meal: What The FDA Does Not Want You To Know About The Food You Eat", who was then working for the FDA, blew the whistle on mercury in High Fructose Corn Syrup. Dr. Default explained how mercury can suppress genes involved in developmental problems such as autism and ADHD. Dr Dufault's research demonstrated that eating less processed foods and more whole fruits, vegetables and nuts resulted in lower levels of mercury in a person's blood. These lower levels of mercury coincide with lower levels of sugar, which also reduces one's risk of developing diabetes. A double win. The Smithsonian Institute honored Dr Dufault by inviting her to present her findings. Since then, Dr Default says she has been "screaming for years" to educate the public on this serious danger in our food supply. She has constructed an incredible body of research linking HFCS mercury to food, how it builds up in the blood, and it's effect on genetic triggers for cognitive impairments. But the science hasn't motivated policy makers to take action. Dr Dufault says "our food system is like outdated software…..it needs upgrades."
WHAT CAN YOU DO?
If you want to stay healthy, lose weight easily, get rid of chronic disease, protect your love ones and help reduce the obesity/diabetes epidemic, the single most important thing we all can do is eliminate HFCS from our families diet. We recommend avoiding all processed foods. Learn how to eat foods closer to Nature in our trainings:
http://bit.ly/DFLCoachPrograms
Be diligent about reading labels. When you see HFCS added, scratch that food from your grocery list.
NATURE HAS YOU COVERED
The Divine has not created you with a sweet tooth without a plan. If you want to have sugar, Nature has so many options: raw honey, maple syrup, dates, raisins, true raw agave, coconut sugar….
__________________________________________________________
__________________________________________________________

Diet For Living School
'Certified Holistic Health Coach/
Cancer Coach Program'

Make A Career Out Of Helping Others…

Check Out Our Dual Certification Program:
http://bit.ly/DFLSHealthCoach

Join us September 4, 2019 for this enlightening
educational experience as together we create a
healthier, happier, more fulfilling world.

What Our Graduates Say About Our Program:
http://bit.ly/DFLS_Testimonial

We Offer An Education That Is Engaging, Powerful
And Transformative For You And Your Clients!

Sign Up For Our Newsletter HERE To Keep Up With
The Latest Health News And Our Sales and Promotions.
Have questions? E-mail us at dietforlivingschool@gmail.com or call us at 505.243.1157
We are here for you.
The Best To Your Success
Diet For Living School
Education That Changes Lives