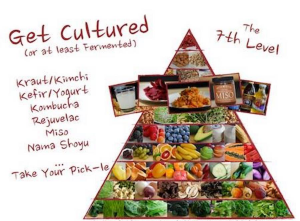 For many of us, transitioning from cooked foods to live foods and jumping head first into a 100% raw food cleanse, can be too dramatic. Starting off slowly with miso allows your gut environment to slowly adapt, repair and rebuild the delicate intestinal flora and helps tremendously if you have problems with gas and bloating.
The miso we use in the Food As Medicine Healing System has no relationship to the little puny, pale bowl of miso soup you get plopped in front of you in a Japanese restaurant. This is made from a lifeless powder, often with MSG added for flavor.
The miso we use at Diet For Living School is unpasteurized, organic and GMO free. It is created from grains such as barley, chickpeas, adzuki beans, rice, or the classic soybeans, then fermented with a Koji culture. We consider these legumes and grains to be very hard to digest. The fermentation process breaks them down, also called 'predigestion', making them easy on the body. Research has found that the longer the miso is fermented the more potent it is in inhibiting the development of cancerous tumors. Unpasteurized Miso that is aged 180 days or more is the best.
Since I am a cancer survivor, I don't kid around. 50% of cancers return within 5 years if dramatic diet change is not made. I am faithful with my relationship to unpasteurized miso…. daily. I add it to salad dressings, use it to make vegan nut cheeses, cracker spreads and, of course, our 'Many Miracles Miso Soup'. When you take our 100% OnLine Certified Holistic Health Coach/Cancer Coach Program, we teach you how to make yummy healing foods with fermented miso, as well as which are the best brands to buy and where to find them.
When I talk about fermented foods, many people will ask me if I drink Kombucha tea. The answer is no, not in the early days of healing the body's digestive system. Kombucha is too effervescent. Which means it is too fizzy…. too lively. It can add to gas and bloating. Miso is uniquely calming and grounding. As the intestinal flora begins to heal, you can experiment with Kombucha later if you're a big fan.
Some of the first records of miso date back to 7th century Japan. Created by Buddhist monks it has remained an integral part of Japanese culture where it is associated with good health and longevity. Probiotic-rich miso is high in plant-based protein and all the B vitamins. It contains all eight essential amino acids. It helps detoxify the body…..eliminates free radicals….alkalizes the bloodstream and facilitates the removal of heavy metals. Miso also improves immune function, helps regulate mood, controls appetite and adds to better cognitive health. All these benefits makes this true superfood a much respected and loved contribution to the Food As Medicine Healing System.
Although it took a couple thousand years modern scientific inquiry has begun to catch up, finding that daily use of miso can be a potent medicine in the fight against a variety of Western aliments and digestive problems. It's time to elevate miso to the Top of the Food Pyramid.
__________________________________________________________
__________________________________________________________
Diet For Living School
'Certified Holistic Health Coach/
Cancer Coach Program'

Make A Career Out Of Helping Others…

Check Out Our Dual Certification Program:
http://bit.ly/DFLSHealthCoach

Join us September 4, 2019 for this enlightening
educational experience as together we create a
healthier, happier, more fulfilling world.

What Our Graduates Say About Our Program:
http://bit.ly/DFLS_Testimonials
We Offer An Education That Is Engaging, Powerful
And Transformative For You And Your Clients!
Sign Up For Our Newsletter HERE To Keep Up With
The Latest Health News And Our Sales and Promotions.
Have questions? E-mail us at dietforlivingschool@gmail.com or call us at 505.243.1157
We are here for you.
The Best To Your Success
Diet For Living School
Education That Changes Lives