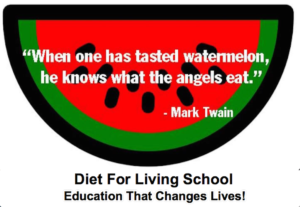 The acidic Standard American Diet (SAD) makes it very difficult to maintain a balanced pH. When my body was fighting to reverse cancer symptoms my first challenge for getting well was to get Alkaline….ASAP. Cancer cells do not thrive in an Alkaline environment.
To regain my health, I followed Dr. Ann Wigmore's Raw Food Protocol. She was very adamant about drinking the very Alkaline waters of the watermelon rind. This is the white flesh of the peel where the highest concentration of nutrients are.
I was in serious trouble, so I juiced the white rind blended with filtered water as instructed. I carried a jar about daily and sipped on it at intervals until I'd consumed two quart jars of the precious liquid by night fall. Then I would begin again the next day.
In time my very acidic condition shifted. Inflammation subsided. As I added other Raw Foods and unpasteurized fermented foods to my diet, I began to heal, get well and flourish. Thank you Dr. Ann Wigmore for your ingenious work. Thank you for sharing it with the world and making it possible for me to save my life using Living Foods as a healing tool.
NOTE: Only Organic Watermelon is alkaline! Non organic watermelons are filled with acidic chemicals.
For Fun n Healthy Watermelon Recipes, check out our
Diet For Living School Facebook Page HERE!
__________________________________________________
__________________________________________________

JOIN US!
If you are choosing to make your immune system a priority,
if you believe now is the time to finally reclaim your health,
Our Fall 2020 Training Is For You!
If you would like to then take that knowledge and share it
with your family, friends and community, Our 100% Online
'Certified Holistic Health Coach/Cancer Coach Program' Is For You.
If you are looking for an education that:
> Impacts every area of your life
> Guarantees your personal growth
> Connects you to an incredible community that inspires you
> Pays well, feels fulfilling and makes a meaningful difference….
Our Dual Certification Training Is For You!
At Diet For Living School we teach that everyone has the power and ability to influence their own health and the health of others more than they can imagine. This great power is at the end of our forks.
Want to know more?
We invite you to study with us.
Work at your own pace.
Our Program is guaranteed to change your life!
Contact Us about our DFL Payment Plan….
__________________________________________________
__________________________________________________



DIET FOR LIVING SCHOOL

Check Out Everything We Teach Here:
http://bit.ly/DFLCoachPrograms

Check Out Our Testimonials Here:
http://bit.ly/DFLS_Testimonials

Have questions?
E-mail us at dietforlivingschool@gmail.com or call us at 505.243.1157

We are here for you.

Please Share Us With Family and Friends Also Seeking
A Career That Makes A Difference!