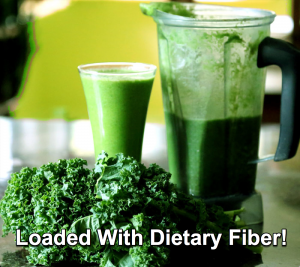 If you're like me, you may have avoided the topic of dietary fiber…..but when you are struggling with your health, or fighting for your life, the conversation can take a turn. New studies have correlated DF, as it's now loving called, in the prevention of many life threatening diseases, like coronary heart disease, cancer and diabetes, where it's been found to lower the levels of 'bad' cholesterol and increase the levels of 'good' cholesterol, as well as lower blood sugar.
The American diet is dangerously low in dietary fiber. Most people are consuming about 10 grams daily of this essential ingredient to good health. The FDA, always a bit antiquated and behind the times when it comes to up-to-date health information, suggests 20-30 grams of fiber. But more modern health resources like Dr Joseph Mercola advise up to 50 grams of fiber for every 1,000 calories of food consumed.
How much fiber is too much? According to our closest relative in Nature, the wild chimpanzees, who live out their lives with none of the diseases we are now struggling with, consume 300 grams of fiber per day. No hemorrhoids here. Let's just say the natural world takes whole food fiber seriously.
Today I'm on board when it comes to a daily high fiber count. I consume wild blueberries for breakfast and a raw pancake made with macadamia nuts, raisins and date, topped with apricot jam. Lunch is munching and crunching my way through a heaping rainbow organic salad of red cabbage, cherry tomatoes, red bell pepper, beets, green as well as red onions, basil leaves and Swiss chard. I top it with fiber rich hemp seeds and pine nuts. Snacks are a hand full of raw organic cashews or a green smoothie. Dietary fiber is too soggy to get the needed job done if you eat it cooked so I consume a great amount of live foods at every meal.
The main purpose of consuming fiber is elimination. Without fiber, complete elimination is nearly impossible. The human body is built in such a miraculous way that almost all the toxins from every part of the body, including millions of dead cells, end up in the colon, ready for departure.
There are two main kinds of fiber: soluble and insoluble. Soluble fiber is found in fruits like blueberries, cherries, and bananas. Seeds like chia, flax and sunflower. Vegetables like avocados, cucumbers and peas. Soluble DF dissolves foods into a gel-like texture. Under a microscope soluble fiber looks like a sponge. Like a sponge it can absorb many times more toxins than its own volume. It grabs up toxins and takes them out of the body. How amazing is that!!!!
Insoluble fiber is found in foods like dark leafy greens, celery and carrots. These foods are also known as 'roughage', with tough cell walls. They not only add bulk to the stool but they act as Nature's broom, sweeping the intestines clean of fungus and parasites. These foods are also known as quick-exit foods. This helps waste move through your digestive tract more quickly for daily elimination.
Most living food fruits and vegetables contain both soluble and insoluble fiber. That's why a life-extension diet contains a variety of living foods to take care of all the body's needs.
*Health Tip: When you make a commitment to upping your dietary fiber count, take it slow. Create a counterbalance by consuming unpasteurized fermented foods daily (check out your health food market for fermented foods in the cold foods section). These foods will help repair the colon and starve out pathogens. In time, with patience, you will create a healthy intestinal environment. Then you too will feel brave enough to encourage a conversation about dietary fiber.
OUR FAVORITE FIBER FILLED ORGANIC SMOOTHIE!
> ½ bunch of spinach
> 2 kale leaves
> 2 granny smith green apples peeled and deseeded
> ½ banana
> ½ fresh lime with peel
> 2 cups filtered water
Add whole lime, cover with water, to a high powered blender. Blend well till creamy. Add all the rest of the ingredients. Blend again till everything is well incorporated. Enjoy!
__________________________________________________________
__________________________________________________________

Diet For Living School
'Certified Holistic Health Coach/
Cancer Coach Program'

Make A Career Out Of Helping Others…

Check Out Our Dual Certification Program:
http://bit.ly/DFLSHealthCoach

Join us September 4, 2019 for this enlightening
educational experience as together we create a
healthier, happier, more fulfilling world.

What Our Graduates Say About Our Program:
http://bit.ly/DFLS_Testimonials

We Offer An Education That Is Engaging, Powerful
And Transformative For You And Your Clients!

Sign Up For Our Newsletter HERE To Keep Up With
The Latest Health News And Our Sales and Promotions.
Have questions? E-mail us at dietforlivingschool@gmail.com or call us at 505.243.1157
We are here for you.
The Best To Your Success
Diet For Living School
Education That Changes Lives