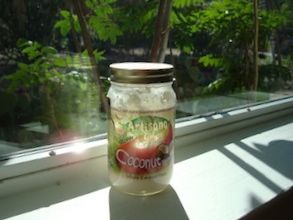 Crostinis are "Little Toasts", an Italian appetizer, served with toppings and garnishes. Crostinis are thought to originate in medieval times. Then it was typical for Italian peasants to eat their meals on slices of bread instead of ceramics. Here at Diet For Living Center, we love foods that act as a transporter of yummy Raw toppings and garnishes.
Typically, Crostinis are made with plain white bread. To make modern flour look clean and beautiful it is bleached with chlorination, which gives it its bright white appearance. Using mutating agents like chlorine and benzoyl peroxides are not allowed in the European Union and China but OK in the USA. I don't know about you, but when I hear China bans ingesting a chemical you get my red flag attention. Turns out these chemicals have been shown to be toxic to the human Beta-cell.
Most people think of flour in terms of wheat flour. In fact flour can be ground from a variety of nuts and seeds, making your food safe, gluten-free and far more nutritious, without empty calories.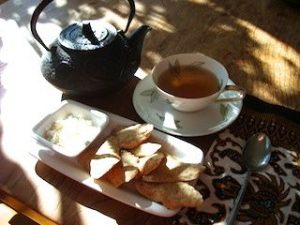 Our Crostinis are made with organic raw hazel nuts. Hazel nuts are rich in unsaturated fats, the kind that are actually good for the heart. Hazel nuts contain almost half of our recommended daily amount of magnesium, a mineral that regulates calcium levels in the heart and muscles, as well contributing to bone growth and strength. Studies have found that the alpha-tocopherol type of Vitamin E in hazel nuts is so rich that it may cut the risk of bladder cancer in half. And ,of course, these 'little toasts' are gluten free and low on calories. I like to serve them with a little bit of coconut butter on top with a warm cup of tea while I am snuggling in my pajamas in these autumn evenings. But they are a great healthy snack any time of day. Be sure to be creative with your toppings, so 'Old World Italian'.
Our Raw Hazelnut Crostinis Recipe
1 ½ cup Raw hazel nuts soaked over night and drained
1/3 cup ground flax seed meal
3 tablespoons olive oil
1 tsp nutritional yeast
¾ tsp sea salt or mineral salt
1/3 cup filtered water
Feed the drained hazel nuts through an omega juicer with the blank on. Take the nut puree and place in a food processor with olive oil and water and pulse. Slowly add the ground flax seed meal, nutritional yeast and sea salt, and process till everything is well combined. Add a little more water if needed. Spread on a dehydrator sheet with a spatula. Use the spatula to score into little triangle toast points. Dehydrate at 115 degrees for 3 hours. Flip the Crostinis and allow to dehydrate another 6-8 hours. Check for dryness. They should be crispy. Eat some right away for a yummy snack with topping. Store the rest in an air tight Mason jar for later. Enjoy!