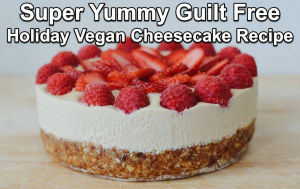 Staying healthy for the Holidays does not just mean juicing, salads and smoothies. There is a whole world of glorious Vegan-Raw Desserts to indulge in. That means we can all have fun while maintaining our health goals. YAY!!!
Eating Vegan-Raw desserts, for us sweet tooth-ers, allows us to enjoy amazing treats without buckets of processed dairy and white sugar. This Vegan-Raw mini cheesecake contains plenty of vitamin C, protein, zinc, magnesium, good fats, important fiber and no cholesterol. So go ahead and enjoy a slice without the guilt.
In our household, we make 4 mini cheesecakes out of one standard recipe (you can get mini Spring-form pans at Walmart or on the Web). They freeze easily until we're ready for a slice with tea or to share with friends when they drop in.
Here's How Easy They Are To Make:
HOLIDAY VEGAN CHEESECAKE RECIPE
WHEAT-FREE CRUST:
2 cups almond meal
1/2 cup medjool dates
1/4 cup coconut palm sugar
1/4 cup Raw cacao powder
2 tablespoons extra virgin coconut oil
1/8 teaspoon sea salt
> In the food processor add almond meal, dates and coconut palm sugar. Process until incorporated.
> Add the rest of the ingredients and process until mixture starts to stick together.
> Grease bottom of 4 mini Spring form pans with organic coconut oil
> Spread the crust mixture evenly on bottom of pan.
VEGAN FILLING:
3 cups Raw organic cashews, soaked for two hours, then drained
1 cup Raw almond milk
3/4 cup pure Raw agave nectar
1/4 cup fresh lemon juice
Zest of one organic lemon
2 tablespoons pure vanilla extract
1/4 cup non GMO lecithin powder
3/4 cup cacao butter, gently warmed and soft
Place the cashews, nut milk, agave, lemon juice and vanilla into a high speed blender and process until smooth. Add the rest of the ingredients and process until creamy.
> Pour the filling over the crust, smoothing with a spatula.
> Top with glorious antioxidant-rich bright fruit. I like strawberries, blueberries or red raspberries.
> Freeze each cake until ready to eat. Each cake makes 4 slices.
HAPPY HOLIDAYS ARE HEALTHY HOLIDAYS!!!

__________________________________________________
_________________________________________________
Our January 2020 Class Is Full!

__________________________________________
__________________________________________
OUR NEXT
'CERTIFIED HOLISTIC HEALTH COACH/
CANCER COACH PROGRAM'
Will Be September 2020.
Date To Be Announced!

Check Out Everything We Teach Here:
http://bit.ly/DFLCoachPrograms

Check Out Our Testimonials here:
http://bit.ly/DFLS_Testimonials
Have questions?
E-mail us at dietforlivingschool@gmail.com or call us at 505.243.1157
We are here for you.
Please Share Us With Family and Friends Also Seeking
A Career That Makes A Difference!