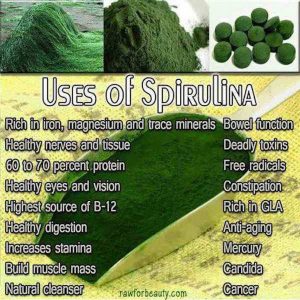 Maintaining good health during all four seasons requires living in harmony with the natural cycles. Fall is when we prepare for Winter. This the best time to begin boosting your immune system so that it will 'Weather the Winter'.
Vitamin supplements can be tricky with no true FDA regulation system to assure you of their potency. Best to use whole Raw Superfoods found in Nature. This time of year Joseph and I start ramping up our morning smoothie with Spirulina.
Spirulina is not a true algae but a fresh water relative to sea vegetables like wakame, arame, kelp, nori and dulse. It grows quickly in sweet water lakes and can be cultivated and harvested in many places on Earth. We only buy brands that have not been pasteurized but are dried at low temperatures so we can be sure no nutrients are lost.
This amazing micro algae contains bio-available iron, has 26 times more calcium than cows milk, all the B vitamins including B-12, and is packed with vegan protein. Loaded with chlorophyll, it helps cleanse the liver and eliminate toxins from the digestive tract.
Add a level teaspoon to your favorite smoothie daily to protect the body from immune deficiencies and to be fortified for the cold and flu season.
__________________________________________________________
__________________________________________________________

JOIN US JANUARY 22, 2020 FOR OUR
'CERTIFIED HOLISTIC HEALTH COACH/
CANCER COACH PROGRAM'!
This from our graduate Christina Mueller:
"Best program ever! Very professional, very organized and stress free! LOVED every minute! Thank You!"
Check Out More Testimonials here:
http://bit.ly/DFLS_Testimonials
Check Out Everything We Teach Here:
http://bit.ly/DFLCoachPrograms
If you are seeking a career that:
> Impacts every area of your life.
> Guarantees your personal grow.
> Connects you to an incredible community that inspires you.
> Pays well, feels fulfilling and makes a meaningful difference.
A $300 deposit will assure that you receive the training that will change your life. You do not want to miss getting a spot!
When you register you get:
> FREE! A copy of my e-book Creating A Life That Matters sent straight to your in-box.
> FREE! A copy of my Five Star e-book Diet For Living Cancer Free/What Worked For Me sent straight to your inbox.
 
If you are heart centered, yet mission driven, you will not want to miss this opportunity to attend our Three Month 100% OnLine Program.
Have questions?
E-mail us at dietforlivingschool@gmail.com or call us at 505.243.1157
We are here for you.
Please Share Us With Family and Friends Also Seeking A Career That Makes A Difference!