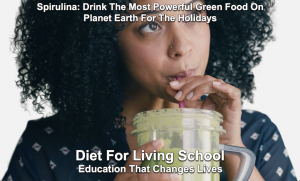 The Holiday Season for many of us is an especially busy time of year…parties, traveling to see loved ones, entertaining friends….it's the ultimate go-go-go- time, often making it difficult to stay committed to healthy eating.
No matter how much we look forward to celebrating, no matter how excited we get about making it the best Christmas ever, we do not have bottomless capacity, it's possible to drain all our energy with all the giving. To stay healthy we have to refuel daily in a big way.
One way to protect your health during this season is to make sure you are getting everything you need to support your body in one shot. Here at Diet For Living we don't believe in over the counter processed dietary supplements. We are lovers of real food. We rely on the healing powers of what are called Green Superfoods.
WHAT IS A SUPERFOOD?
It is a food extremely high in antioxidants, brimming with vitamins and minerals, packed with every thing the body needs to sustain itself during these marathon times of year. These foods are natural multi-taskers in the body. They can be quickly utilized for energy, repair and fighting disease.
There are many foods classified as super-concentrated, super foods. But our day-to-day favorite for December is the powerful green food, spirulina.
WHAT IS SPIRULINA?
Unlike over the counter supplements that are highly processed and useless to the body, spirulina is a whole food grown in alkaline fresh water. It is classified as a superfood because it is so nutritionally dense. Spirulina is not considered a true algae but a fresh water relative to sea vegetables like kelp, nori and dulse. Unlike chlorella, which contains a tough, undigestable cellulose shell and tends to scratch the intestinal wall, spirulina is a soft single cell plant that is gentle on the digestive system.
WHATS SO SPECIAL ABOUT SPIRULINA?
> It's a better source of protein then steak. It contains a vegan source of alkaline protein so there is no chance of inflammation from this food. It is high in zinc, calcium, potassium, iron, and vitamins C, D, E, and the B's; B1, B2, B-6 and B12.
> The body easily recognizes chlorophyll foods and can put it to work immediately re-building the immune system.
> Spirulina aides the liver to help detoxify heavy metals, especially arsenic, from the body.
> Blue green algae promotes the growth of healthy bacterial flora in the intestines, which in turn inhibits candida from thriving.
> If you are fighting cancer this season I send you blessings and hope. Spirulina contains a rare antioxidant known as phycocyanin, which protects the cells from free radical damage.
NOT ALL SPIRULINA IS CREATED EQUAL
Not all Spirulina is created the same. You want to avoid spirulina sourced from India or China. You want to make sure the spirulina you purchase has not been exposed to high heat during the drying process. This will kill the vital elements that are so beneficial to the body. We recommend 'Power Organics Blue Green Algae'. It is sourced from the pristine head waters of Lake Shasta located at the base of 14,125 foot Mount Shasta in Northern California. They have been harvesting blue-green algae since 1989. It's a little more pricey, but your health is worth it, and it lasts forever if you keep it in a cool dark place.
Right now this is our favorite blender drink at Diet For Living School:
GREEN POWERHOUSE ORGANIC SMOOTHIE
½ cup fresh almond milk
½ cup frozen bananas
½ cup frozen blueberries
1 teaspoon high quality spirulina powder.
*tip: if you live near a Trader Joe's they are selling frozen wild blueberries from Quebec. This means they have never been cultivated.
HOW TO MAKE: Put the almond milk, bananas and blueberries in the blender and mix till creamy. Pour into a glass. Add the spirulina, stir until incorporated. Drink to your health!
*If you're on the go, and don't have time to complete a blender drink, carry some powder with you and mix a teaspoon in juice. Commit to a teaspoon daily until the New Year……then step into 2018 ready to cleanse with us.
LEARN A NEW WAY TO LIVE: JOIN OUR COMMUNITY OF HOLISTIC HEALTH COACHES
RIGHT NOW! We are offering our training with $500 OFF till the end of the year!
At Diet For Living School it is our passion to expose the truth about the modern food system and the harm it is creating. Then to teach new ways to eat organic plant-based foods that get you excited about getting healthy. We feel very strongly that learning a new way to live is worth the effort. This is why our 3 month Certified Holistic Health Coach Program offers you 4 days of hands-on Vegan/Raw Food Chef skills. So that you can see and taste the healing foods and get as enthusiastic as we are.
Find out more here: http://bit.ly/dflshome
Here is a review from our graduate Christina Mueller:
"Best program I ever attended! Very professional, very organized and stress free! LOVED every minute! Thank You!"
See more testimonials here: http://bit.ly/dflstestimonials
Sign up to receive our Newsletter straight to your Inbox here:
http://bit.ly/dflshome
Get a copy of my ebook "Diet For Living Cancer Free/what worked for me" here: http://bit.ly/paulacancerebook
Happy Holidays From The Diet For Living Team
Diet For Living School
Education That Changes Lives