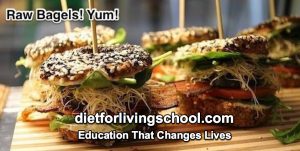 Dow Chemical recently invented 'Wellnence Gluten Free 47129', with polymers derived from cellulose and carcinogenic chemicals that mimic gluten in bread products. Dow doesn't like to call it's new invention 'chemically modified wood pulp', so it goes by the name of 'natural plant fibers' or 'plant based food ingredients' when you read the label.
Presently there is no limit on the amount of chemically modified cellulose pulp that can be used in bake goods. Chances are, right now, if you are eating gluten free processed breads, pancakes, crackers, pizza crust or muffins, you are consuming wood pulp with a dash of pesticides.
Humans, unlike termites, don't get along well on cellulose. It's time to really change the way we eat, to change our food environment. Get away from corporate processed food.
You may be surprised that the picture that I used for this article is of Raw bagels. In the Raw Food Diet we make our flour fresh from plant-based whole foods like flax seeds. almonds, sunflower seeds and coconuts. It's pure, real food, and you can count on it to keep you healthy.
I want to share our gluten free bagel recipe with you. It's so easy to make and they come pretty close to a true bread experience.
RAW BAGELS:
1/2 cup organic potatoes, sliced (soak over-nite in salt water)
1/2 cup organic zucchini
1 1/2 cups flax seed flour (I make it in a coffee grinder)
2 tablespoons fresh lemon
2 tablespoons pure extra virgin olive oil
Sea salt to taste
Sesame seeds to sprinkle on top
RECIPE: Drain the potatoes and add to VitaMix Blender with zucchini and water. Blend until creamy. Pour into a mixing bowl with the flax seed flour, salt and lemon. Stir vigorously till smooth. Add more water if needed. Let mixture sit for 15 minutes. Spoon on dehydrator sheets in a round shape, creating a hole in the middle of each one. Sprinkle sesame seeds on top.
Dehydrate at 115 degrees for 8 hours, turning at the half way point.
TO MAKE A SANDWICH: Take two Raw bagels for the top and bottom. Dress the middle with Raw vegan cashew cheese, lettuce, tomato, red onions and sprouts.
Super Yummy!
BECOME A CERTIFIED HEALTH COACH!
Your Commitment To Yourself
Signing-up now is a commitment to yourself and your future. As with any new endeavor, preparation is essential:
> Prepare for what no longer serves you to drop away.
> Prepare for more awareness.
> Prepare to inspire others.
> Prepare for your dreams to come true.
> Prepare for a new life and a new power to come through you.
> Prepare for 2017 to be your Best Year Yet!
If you are called to learn a new way to live while creating a career that has meaning you will want to join us for our Fall 'Certified Health Coach Program':  http://bit.ly/dflshealthcoach
Our mission: To get as many people as possible excited about holistic healing. To help encourage you to take this step forward, we have our spectacular 'Fall Give Away' going on right now! Save on your education and get plenty of free gifts to help you get started.
For the next 5 DAYS ONLY, Receive These Wonderful Gifts when you register:
> $300 off the total price of your tuition!!!! Wow, right? We want to give you all the incentive you need to get healthy, help your family become healthier and bring that knowledge to your community to build a successful career.
> Free! 45 minute one-on-one Strategy Coaching Session (worth $125) to help guarantee your success.
> Free! A copy of my e-book "Diet For Living Cancer Free/what worked for me".
> Free! A copy of "Living Cuisine/The Art and Spirit of Raw Foods" when you attend class (a $21.95 value!).
> Free! Our 3 'Favorite Vegan Cheese Recipes' when you subscribe to our Newsletter. Join our tribe of 3,000 readers dedicated to learning how to live a better way today.
All this for you when you sign up during our sale for our Fall 'Certified Health Coach Program'.
If you are heart centered yet mission driven, check out our wonderful three month Program here:  http://bit.ly/dflshealthcoach
Check out how much our students love this training on our Testimonial Page here:  http://bit.ly/dflstestimonials
If you have questions, we are here for you. Call Us: 505-243-1157
In Faith For A Better Tomorrow
Paula Diana/Co-Founder
dietforlivingschool.com
Education That Changes Lives
Please Share This Post With Anyone Looking For A Career That Makes Sense