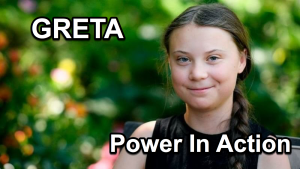 Real power is about knowing who you are and what value you add to the planet. My personal feminine definition of power is the ability to change the rules to make the world, or my corner of it, a better place. Harnessing this power in yourself can begin a little wobbly, but steadys and grows with confidence when we follow our own truth. We use our power to re-imagine our relationship to each other and the Earth.
REAL POWER IN ACTION
Something extremely important is happening right now. Little lone warrior Greta Thunberg, a 16 year old Swedish girl, landed on the shores of New York City and showed what one person can do when they refuse to keep quiet.
Her voice was heard. Last Friday, from Sydney to New Delhi….Kabul to Nairobi…. from New York to San Francisco…united with millions of people around the world to walk out of schools and work to protest against the climate crisis. A protestor as far away as Helsinki held up a placard that read, "My house is on fire, and my reindeer can't swim. Wake up! We're out of time".
When it comes to speaking truth, Greta does not beat around the bush. "We are in the beginning of a mass extinction and all you can talk about is money and fairy tales of economic growth with your empty words…how dare you?" she said at the U.N. Climate Summit. Her clear message is that we don't have ten years to flub about. The time is now. The Western World has done a lot of damage in a short amount of time…and many developing countries are following us down the rabbit hole….
"I WANT A FUTURE"….
So how are we going to show up as adults for these young people worried they won't have a future? How do we not offer empty words?….
Each one of us will have to find our way to contribute. And contribute we must. Mothers, fathers, grandmothers, brothers, sisters, aunts and uncles. The burden is big, but if we shoulder it together, I believe we can make change. Because we can't allow our young people to dream without a future….
What is our contribution? What are we doing at Diet For Living School? Education. Because education creates a ripple effect. And ripples build into waves.
WHAT ARE WE DOING?
In America, we have become so comfortable with Organic Foods sitting side by side with Conventional Foods, we may have come to take it for granted. But to save this precious Earth, we cannot afford to take any thing for granted again.
Non-organic foods are destroying our ecosystem with synthetic chemicals that are endocrine disruptors to us and every living being on Earth. Non-organic foods are sprayed with pesticides and fertilizers that are petroleum based and contaminate our soil. The runoff makes its way into our streams, rivers, reservoirs and lakes; then on into our oceans where it contaminates our fish, sea coral, dolphins, turtles, whales….. Industrial Agricultural pollution from non-organic farming practices is destroying our eco-systems.
How we grow our food, how we shop for our food, how we eat, is all inter-connected. How we treat our health is connected to how we treat the planet.
This is Organic September Month. A four week long campaign intended to raise awareness of eating foods free of pesticides. Foods free of artificial flavoring. Foods free of growth hormones. How long should we keep it going? Till all the endangered honey bees can re-populate…..and are never in danger again. Till all is made clean again as it was at the beginning of time and we can proudly pass off a planet to our children that they can pass off to theirs…..
We Invite You To Share This With Everyone You Know!
__________________________________________________________
__________________________________________________________

Diet For Living School
'Certified Holistic Health Coach/
Cancer Coach Program'

Our Next Program Is January 2020!
Date To Be Announced Soon!

Make A Career Out Of Helping Others…

Check Out Our Dual Certification Program:
http://bit.ly/DFLSHealthCoach

Join us in the New Year for this enlightening
educational experience as together we create a
healthier, happier, more fulfilling world.

What Our Graduates Say About Our Program:
http://bit.ly/DFLS_Testimonials

We Offer An Education That Is Engaging, Powerful
And Transformative For You And Your Clients!

Sign Up For Our Newsletter HERE To Keep Up With
The Latest Health News And Our Sales and Promotions.
Have questions? E-mail us at dietforlivingschool@gmail.com or call us at 505.243.1157
We are here for you.
The Best To Your Success
Diet For Living School
Education That Changes Lives