LEARN TO USE FOOD AS MEDICINE AS A HEALING TOOL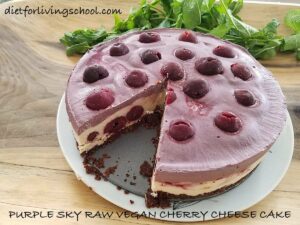 OUR PURPLE SKY RAW VEGAN CHERRY BIRTHDAY CHEESECAKE: THE RECIPE
My favorite desserts are plant-based like Our Purple Sky Raw Vegan Cherry Birthday Cheesecake: The Recipe that give me a connection to my family long gone. Cheesecake for me belongs to my dad. When he was about 75 he moved into senior housing. Although biological, behavioral, environmental and dietary factors all contribute to life span, everywhere in the world women live longer then men. Because of this disparity of the sexes, my father became popular overnight. He had a small posse of elderly women he hung out with…..they were thrilled with him, he could still drive and he loved to cook. The perfect combo. One of his generous offerings was home made cheesecake. The more everyone raved about his cheesecake skills, the more he would make. His tiny senior apartment became a cheesecake factory for a time. When I'd go to visit him he would say "have a piece of cheesecake Paul" in his big deep voice. I'd pop my head in the fridge and there would be a grand selection of cheesecakes….
FAST FORWARD…. I FIGHT CANCER…. AND WIN
Current research shows that cancer survivors in general have an increased chance of redeveloping cancer compared to people of the same age and gender who have not had cancer. A second cancer can appear at any time during survivorship. This means that it is even more important for cancer survivors to be aware of the risk factors. Whether or not they will have a second cancer depends on many different things but studies have shown that 45% of cancers return if radical diet change is not made.
Most of you know that I healed myself from cancer without using chemo, radiation or surgery. I committed to a 100% raw and living foods diet for one year until I was cancer free. (Check out my book Diet For Living Cancer Free/What Worked For Me to learn more). From there I transitioned into an 80/20 diet….80 percent live plant based foods and 20 percent healthy cooked foods.
For how long, you may ask? Well, for the rest of my life….
It's been 100% life changing….and 100% life challenging….but I had to learn a new way to live. People often talk about healing cancer with natural methods, but not the complicated long game journey of continuing the rest of your life…..
Cancers very very favorite food is not just sugar but refined white sugar. In America 2022 refined white sugar is blatant and hidden in everything…..the obvious, cakes and cookies….but also cereals, soups, salad dressings, pre-made beverages, coffee drinks, sport drinks, energy bars….an amazing amount of foods to trick us into addiction….
When healing from cancer 'for life' I had to learn how to make super yummy desserts without white sugar or white flour. To keep myself out of trouble I learned to make Raw Vegan Cheesecakes, created from all natural ingredients for birthdays and holidays. Ones that are as delicious as those my dad made. Today I would like to share one of my favorites, made with no white sugar, no white flour, no heart stopping cream cheese or butter or sour cream or egg yolks. Every ingredient is divinely organic and totally plant based.
HERE'S MY RECIPE: PURPLE SKY RAW VEGAN CHERRY BIRTHDAY CHEESECAKE
All Organic All The Time!
THE CRUST:
> 2 ½ cups Raw walnuts soaked overnight; then dehydrated for eight hours
> ½ cup medjool dates
> ¼ cup coconut palm sugar
> ¼ cup Raw cacao powder
> pinch of sea salt
TO MAKE CRUST:
In a food processor, grind the walnuts into a fine flour. Add the dates, coconut palm sugar, salt and cacao powder and process until well incorporated. Spread the mixture on the bottom of a cheesecake spring form pan greased with coconut oil.
FIRST LAYER OF FILLING:
> 3 cups Raw cashews soaked overnight; then drained
> 1 cup fresh Raw almond milk
> ¾ cup pure maple syrup*
> ¼ cup fresh lemon juice
> 2 tablespoons pure vanilla extract
> ¼ cup sunflower lecithin powder
> ¾ cup melted Raw cacao butter
> 2 cups bing cherries*

TO MAKE FIRST LAYER OF FILLING:
Place the cashews, almond nut milk, agave, lemon juice and vanilla into the VitaMix blender. Process until smooth and creamy. Add the lecithin and melted cacao butter and whip again.
Place half the filling into spring pan and stagger one cup of the cherries. Then add the rest of the filling.
Place the cheesecake in the freezer for 2-3 hours till stable.
SECOND LAYER OF FILLING:
> 1 cup cashews soaked over night and drained.
> 4 pitted dates, soaked two hours and drained (save date water)
> 1 tablespoon maple syrup
> ½ cup raspberries*
> 1 tablespoon shredded beet
> 1 tablespoon pure vanilla extract
TO MAKE SECOND LAYER OF FILLING:
Add nuts, dates, maple syrup, raspberries, beet, vanilla and ¼ cup date water to VitaMix and blend until smooth. Using a spatula spread over top layer of first filling. Add another layer of cherries on top, gently pressing them into filling.
Store in freezer until you need a little treat. We cut ours with a knife warmed under hot water, or allow to thaw for 10 minutes.

* Organic Frozen Bing Cherries: Best buy, Costco
* Pure Organic Maple Syrup: Trader Joe's
* Organic Raspberries: Best price, Trader Joe's
___________________________________________________
 ___________________________________________________
Our Diet For Living School Offers The Best Certified Holistic Health Coach/ Cancer Coach Program, giving you the strong foundation you need to take your place in the alternative health movement.
If you long to learn a new way to live while becoming a powerful, inspiring educator that transforms the lives of others,I invite you to visit our web page and see what we teach ASAP.
___________________________________________________
___________________________________________________
 
BECOME A COACH AND EDUCATOR THAT SHAPES A HEALTHIER, HAPPIER WORLD FOR YOURSELF, YOUR FAMILY, AND YOUR COMMUNITY….
See for yourself why, for over 12 years, students from all over the world have attended our trainings.
Find Out More Here: http://bit.ly/DFLDualCoachingCertifications
SignUp For Our Newsletter Here: http://bit.ly/DFLS_NEWSLETTER

Call us at 505-243-1157.
We Would Love To Hear From You