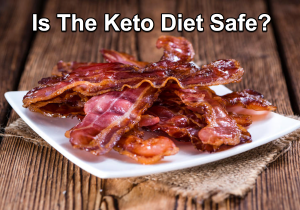 Yes, the winter is receding. Days are building up to Spring. As we shed our bulky clothes this time of year, we start to get serious about shedding extra pounds. So, many of us may decide to start a Keto Diet, the latest trendy weight-loss plan, so that we can be "bathing-suit-ready". But here's what you need to know before diving in.
The Keto Diet wasn't actually created to help you lose weight. It was designed as a last ditch attempt to help children with Epilepsy. It tricks the body into thinking it's starving.
The Keto Diet, which is 15-30% protein and 70-85% fat, has some nasty side effects. The foods are highly acidic. Acidic foods are responsible for chronic inflammation. Many people report headaches and nausea, sometimes referred to as the "Keto Flu". This may be attributed to the daily consumption of seafood, cheese, eggs, yogurt, cottage cheese, butter, cream and bacon making the body toxic. This diet is alarming! It totally ignores that the American Heart Association has advised against a high consumption of animal fats due to potentially life threatening conditions such as high blood pressure, high cholesterol and heart disease.
In 2015 the World Health Organization classified processed meats, such as bacon, as Group 1 carcinogens.
The Keto only allows 5% fruits and vegetables, the valuable foods that keep our body clean and clear. The foods that help the intestines move daily. The Keto foods are constipation foods. 95% of these foods lack fiber. Fiber is known as "Natures Broom".
The American Cancer Society has just lowered the recommended age for colon cancer screening to 45 due to an alarming increase in colorectal cancer in young adults. This is for early detection and prevention. Colon cancer has a direct response to chronic constipation. Consuming a diet of fiberless foods puts us at risk for colon cancer.
You may think "what's the harm if it helps me lose weight?" But any diet that creates starvation signals in the body is not creating long term balance. It's setting us up for an emotional roller coaster. This is one of the main reasons we struggle with yo-yo weight loss. When the body believes it is starving, it's natural response is to crave the foods it needs. Studies have shown that 80% of us who have lost weight regain all of it back, or more, in two years.
What we truly need is not a fad diet but a lifestyle that works. I am a big supporter of the Mediterranean Diet. Whole cultures on the Mediterranean Sea have thrived on it since the beginning of time. It consists of eating primarily plant-based foods, such as fruits and vegetables, whole grains, legumes and nuts, while replacing animal fats for extra virgin olive oil. Beside reducing disease causing inflammation and fighting cancer naturally, it is high in fiber. Studies have shown it to be mood boosting, and who doesn't need that? For myself, I snack on figs and olives, with a small glass of organic wine, and dream of the Greek Isles, turquoise seas and strong goddess cultures. That's my idea of diet and a sustainable life style.
Want to learn more about using Food As Medicine…
JOIN US APRIL 10, 2019 FOR OUR NEXT
                        'CERTIFIED HOLISTIC HEALTH COACH PROGRAM'
Check Out Everything We Teach:
http://bit.ly/DFLSHealthCoach
If you are looking for a Program that helps you take your clients to the next level, while cheering you on as you grow as an educator, you have found your new tribe.
What Our Graduates Say About Our Program:
http://bit.ly/DFLS_Testimonials
Have questions?
E-mail us at dietforlivingschool@gmail.com or call us at 505.243.1157
We are here for you.
Please Share Us With Family and Friends Also Seeking A
Career That Makes A Difference!
Join Us Today For A Better Tomorrow!
The Best To Your Success
Diet For Living School
Education That Changes Lives