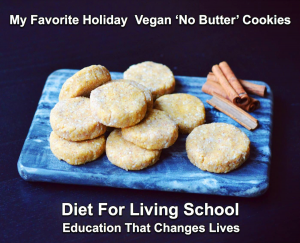 If you are a cancer survivor like I am, you have a 50% chance of the disease returning if you don't shape-up your diet and fly right…..for life. There are few things you can do to impact your life more powerfully, profoundly and permanently than changing your diet. Every morsel of food that enters your mouth directly affects your body and it's ability to fight disease. Changing my diet changed my world, allowing me to zip happily and healthily past the 5 year marker, add another 9, and keep rolling.
But I am a food addiction survivor as well as a cancer survivor. In the old Paula Party days, the food that got me into the most trouble was butter. I loved toast and butter, cheese danish and butter, pumpkin bread and butter, banana bread and butter, multigrain pancakes and butter…….and if the butter melted, I put on more butter……my love affair had no boundaries……my kids used to joke they were going to put on my tombstone "It was the butter". I knew my eating was not aligned with my values, but it was like I had another "me" in my body, one that couldn't stop thinking about warm bread and butter, precious memories from my grandmother's kitchen.
The definition of obsession is 'something that occupies or troubles the mind to an excessive degree'. This comes closest to describing my past relationship to food. This time of year, coming up and through the holidays, would be the hardest for me. You might as well have put me in a coma through the season to keep me out of trouble.
I may have stayed in trouble for all my days except for an unforeseen turn of events. I was diagnosed with cancer and chose to try a Vegan Raw Food Detox Diet….stop my nonsense cold turkey, and get clean. Plant passionate detoxing gave me a long overdue break from sugar, fatty foods and butter. My sabbatical allowed my shame from compulsive, crazy, addictive eating to take a needed rest. I could then begin the process of sorting myself out. Cleansing is powerful. I had a lot to learn quickly. It forced me to stretch and grow. I was encouraged to make kind pals with my colon and to recognize the constipation I'd chosen to ignore all of my adult life. I dropped stubborn weight; my mind began to clear and mystery pains evaporated. Within three months, the melon size tumor shrunk down to the size of an orange. I knew I was witnessing a miracle. Within a year, I was completely disease free.

With great humility I have continued on. Released from the foods that were causing me great harm, I set my sail on North and never looked back. God is Good…..
I want to share my new favorite plant-based Vegan Raw cookie recipe with you. They are simple, yet Divine…..
VEGAN 'NO BUTTER' COOKIES
> 2 cups organic raw macadamia nuts, soaked overnight and strained
> 1 cup unsweetened shredded coconut
> 2 tablespoons fresh squeezed lime juice
> 2 tablespoons organic lime zest
> ½ cup raw agave nectar
> 1 tsp sea salt
> 2 tsp pure vanilla extract
How To Make:
One: Place soaked and strained macadamia nuts in the freezer and chill for 15 minutes
Two: Process chilled nuts, coconut, lime zest in a food processor until mixture is well combined, but a bit on the chunky side.
Three: In a glass bowl, add all the remaining ingredients and combine well
Four: Using an ice cream scoop or soup spoon, make rounds of dough on the Excalibur dehydrator tray. Then flatten with a marble rolling pin, or with your hand, to about ½ inches thick.
Five: Dehydrate at 115 degrees for 12 hours. Makes about 3 dozen cookies. Enjoy!
Oh, and I forgot to mention- These taste just like real butter cookies!!!
__________________________________________________________
__________________________________________________________
OUR NEXT
'CERTIFIED HOLISTIC HEALTH COACH/
CANCER COACH PROGRAM'
Will Be September 2020.

Date To Be Announced!

Check Out Everything We Teach Here:
http://bit.ly/DFLCoachPrograms

Check Out Our Testimonials here:
http://bit.ly/DFLS_Testimonials
Have questions?
E-mail us at dietforlivingschool@gmail.com or call us at 505.243.1157
We are here for you.
Please Share Us With Family and Friends Also Seeking
A Career That Makes A Difference!