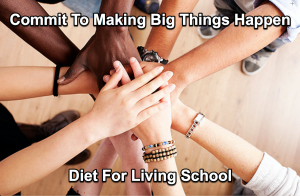 COMMIT TO MAKING BIG THINGS HAPPEN!
GET IN ON OUR SPRING SALE!
GET $500 OFF Our 100% OnLine Training
(with promotional gifts to get you started!)
Inspiration is only half of the equation when starting your coaching business. First you will need an education that grows you forward. An education that is relevant today for people's health needs. An education that is engaging, powerful, and transformative for both you and your clients.
For ten years now Diet For Living School has been the go to education for those students who want to learn the new frontier of optimum health, using food as medicine to heal chronic disease conditions.
If you are seeking a career that:
> Impacts every area of your life.
> Guarantees your personal growth.
> Connects you to an incredible community that inspires you.
> Pays well, feels fulfilling and makes a meaningful difference.
Then dive in!!! Become a Certified Holistic Health Coach. Realign with your purpose. Discover the exhilaration of guiding others toward a happy, healthy life.
You do not want to miss getting a spot! Early registration will assure that you can join us and receive the training that will change your life.
YOUR COMMITMENT TO YOURSELF
Signing-up now is a commitment to yourself and your future.
As with any new endeavor, preparation is essential:
> Prepare for what no longer serves you to drop away
> Prepare for more awareness
> Prepare to inspire others
> Prepare for your dreams to come true
> Prepare for a new life and a new power to come through you
> Prepare for 2019 to be your Best Year Yet!

Our Diet For Living School Early Bird Sale Has Begun!
For The Next Week Only, Save Big and Receive These Wonderful Gifts:
> $500 Off The Total Price Of Your Tuition!!!! 
WOW! Right? We want to give you all the incentive you need to get healthy, help your family become healthier and bring that knowledge to your community to build a successful career.
> Free!  A Copy Of My E-book "Diet For Living Cancer Free/what worked for me".
> Free!  A Copy Of My E-book "Creating A Life That Matters".
> Free!  Thirty Minute One-On-One Business Coaching Call (worth $125.00) to help guarantee your success.
> Free!  Our 3 Favorite Vegan Cheese Recipes when you subscribe to our Newsletter.
Join our tribe of 3000 readers dedicated to learning how to live a better way today.
Subscribe to our Newsletter here: http://bit.ly/DFLS_NEWSLETTER

All This For You When You Sign Up During Our 100% OnLine
'Spring Certified Holistic Health Coach Program'.

If you are heart centered yet mission driven, check out our wonderful Three Month Program here: http://bit.ly/DFLS_Health_ Coach
Check out how much our students love this training on our Testimonial Page here: http://bit.ly/DFLS_ Testimonials
If you feel like this is your year but have questions, we are here for you. Call Us: 505-243-1157
Please Share Us With Family And Friends!