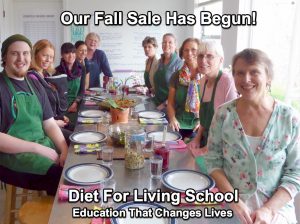 Healing with Natural Nutrition and Detoxification is based on consuming predominantly alkaline foods in their purest form: clean, fresh, organic, plant-based and enzyme rich, as well as the use of unpasteurized fermented foods for colon repair. There is a lot of liquid in a detox cleanse. Liquid disrupts stagnation. The gentle rhythm of cleansing is an empowering act that clears away toxic chemicals, collected debris and opens elimination channels so that anyone can reclaim their health and get their balance back.
The first step in detoxification is keeping food consumption nutrient rich, yet simple. This allows the body to put all it's concentration into eliminating waste, restoring the weakened immune system, repairing damaged organs and rebuilding new cells.
THE MIGHTY MIRACLE OF LIVING FOODS!
Who benefits from cleansing? A period of consuming anti-inflammatory, vegan, dairy and gluten free juices and live plant-based foods has the ability to help anyone with:
Arthritis
Migraines
Heart Disease
Chronic Fatigue
Digestive Problems
Cancer
Diabetes
Kidney Stones
Weight-loss
Exciting, Right?! But here's the key. Most people, after eating a life time of unhealthy foods, are nutrient deficient. Healing the body is not a fly-by-night endeavor. To get the job done correctly, with the best results, takes nutritional training. This is why we created Diet For Living School. We teach our students to regain their own health, then bring that knowledge to their families, friends and communities. WHEN YOU LIVE IT, YOU HAVE MORE TO GIVE! In this way, together, we grow a healthier happier world.
If you are called to learn a new way to live while creating a career that has meaning you will want to join us for our Fall 'Certified Health Coach Program': http://bit.ly/dflshealthcoach
Our mission: To get as many people as possible excited about holistic healing. To help encourage you to take this step forward, we have our spectacular 'Fall Give Away' going on right now! Save on your education and get plenty of free gifts to help you get started.
For the next two weeks only, Receive These Wonderful Gifts when you register:
> $300 off the total price of your tuition!!!! Wow, right? We want to give you all the incentive you need to get healthy, help your family become healthier and bring that knowledge to your community to build a successful career.
> Free! 45 minute one-on-one Strategy Coaching Session (worth $125) to help guarantee your success.
> Free! A copy of my e-book "Diet For Living Cancer Free/what worked for me".
> Free! A copy of "Living Cuisine/The Art and Spirit of Raw Foods" when you attend class (a $21.95 value!).
> Free! Our 3 'Favorite Vegan Cheese Recipes' when you subscribe to our Newsletter. Join our tribe of 3,000 readers dedicated to learning how to live a better way today.
All this for you when you sign up during our two week sale for our Fall 'Certified Health Coach Program'.
If you are heart centered yet mission driven, check out our wonderful three month Program here:
http://bit.ly/dflshealthcoach
Check out how much our students love this training on our Testimonial Page here:
http://bit.ly/dflstestimonials
If you have questions, we are here for you. Call Us: 505-243-1157
In Faith For A Better Tomorrow
Paula Diana/Co-Founder
dietforlivingschool.com
Education That Changes Lives
Please Share This Post With Anyone Looking For A Career That Makes Sense!