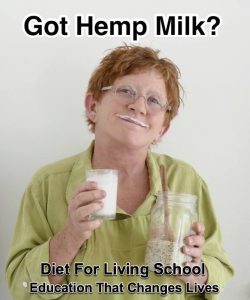 One of Nature's most powerful healing foods is the mighty hemp seed. Considered the most nutritious seed in the world, they have been cultivated for a thousand years as a source of high quality fiber, edible seeds and edible oil. They contain more digestible protein then meat, whole eggs, cheese or cow's milk, as well as being a non-inflammatory source of calcium. Hemp milk can often be consumed by anyone unable to tolerate nuts.
Hemp seeds have been shown to provide relief in many chronic health conditions like arthritis, candida, high blood pressure, high cholesterol, diabetic circulation problems, acne, eczema, intestinal problems, cancer and constipation.
To consume high quality hemp seed milk, avoid boxed and bottled products at the health food markets. They contain the carcinogenic chemicals tricalcium phosphate and disodium phosphate, as well as synthetic vitamins and rice syrup. To extend shelf life these seed milks are pasteurized. The high heating process depletes 50% of the protein, 80% of the calcium-rich properties and 80% of the vitamins.
Hemp milk is so easy to make, it's best to drink the real deal!
HOW TO MAKE:
3 tablespoons Raw organic shelled hemp seeds
1 cup filtered water
Add to a high powered blender. Blend on high until smooth and creamy.
SHABAM! you have fresh hemp seed milk!!!!
HERE'S HOW TO MAKE OUR GREEN MACHINE HEMP MILK SMOOTHIE:
Add to the above milk recipe:
¼ cup frozen bananas
¼ cup blueberries (fresh or frozen)
one handful of fresh baby spinach
½ teaspoon of vanilla
(be sure to keep all ingredients organic)
Blend everything until it's fully incorporated. Drink and enjoy the great gifts of life!!!!!
JOIN THE HEALTHY FOOD REVOLUTION
This is what Monica Williams from Birmingham, England had to say about her training with us:
"Diet For Living course taught by Paula Diana is a must for Raw and Vegan Food enthusiasts and for those who would like to pursue a career in the Wellness Industry. It was worth traveling from the UK to join like minded people who really want to make a difference in their lives as well as the lives of others. Best move I ever made!"
Check out our other wonderful testimonials here:
http://bit.ly/ dfltestimonials
There is still time to register right now to save your place for the Fall Certified Health Coach Program. You will have to hurry! Space has already begun to fill for this popular much loved training!
Check out our exciting Program here: http://bit.ly/ dflcoachprogram
Is our Program a good choice for you? Call 505.243.1157 to find out more!
We would love to talk with you and answer your questions.
Please share us with family and friends that would love to have a career in health and healing.