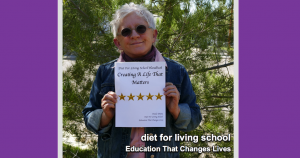 2017 has been a wonderful year for Diet For Living School. In thanks to everyone who has supported us, and to everyone who is searching for meaning in their lives, we offer you our free e-book, Creating A Life That Matters.
If you have already graduated from our Certified Health Coach Program we hope this e-book will continue to inspire you. If you are a newbie to the Health Coach Movement, we feel certain that this e-book will spark your desire to go forward. Because becoming a Health Coach is one of the most powerful and effective choices a socially conscious person who wants to make a profound and positive difference in the world can make.
We feel humbled and blessed to share our gifts with students looking to create careers with greater purpose and deeper meaning while enriching the lives of others. Each student that graduates from Diet For Living School has a somewhat different plan for what they want to do with their training after graduation. But they all arrive with the same commitment and passion: to make the world a better, healthier, happier place. To everyone who feels the same, we dedicate this book.
If you are not a Diet For Living Newsletter subscriber, please sign-up to get your free copy right away of Creating A Life That Matters. Then get ready for October 24, Our Super Saving Sale for the New Year.  Plan to make 2018 your Best Year Yet!
Check out everything we have to offer here: http://bit.ly/dflshome