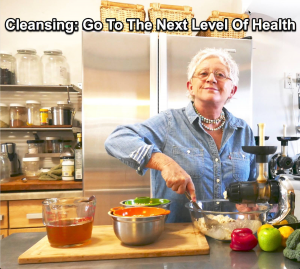 Women are amazing. We juggle jobs, shopping, raising families while going back to college, holding down intimate relationships and any curveballs that life might throw our way. We women have more connections between the two sides of the brain, so we tend to be masters at multi-tasking and time saving, super heroes that strive to do it all. And in so many cases we are succeeding.
But while we participate in the world with fierce passion, what has often been lost in the surge forward has been our sense of self-care. For many of us it is the last frontier to conquer. With our energy pulled in so many directions it's easy to get caught up in out of whack eating.
One of the most powerful reset tools is a simple, very gentle week-end cleanse. When you cleanse from the inside out, you begin to feel better, gain more energy, clarity and focus. Gentle detox cleansing does not just reboot your body. It can improve your emotional terrain as well, creating a shift in consciousness.
When we talk about gentle detox cleansing, we do not mean trying to get by on deprivation. We women have had enough of that. There is no self-love there. Gentle detox cleansing is a compassionate act of self-love.
If you are new to cleansing, I recommend you set aside a Saturday and Sunday to give this powerful healing tool a try. Proper balanced cleansing addresses clearing the body of old debris while re-tuning the mind and spirit. This Diet For Living Week-end Adventure Cleanse is super easy and only requires a tabletop blender and all raw organic fruits and veggies.
DIET FOR LIVING WEEK-END ADVENTURE CLEANSE
MORNING:
8:00 Drink a 6 oz. glass of warm filtered water.
8:30 Light stretching and gratitude meditation
9:00 Breakfast: NEW DAY CHIA SEED PUDDING* with berries on top
9:30 Drink a 6 oz. of filtered water
10:00 Drink a pint of HIGH POWER GREEN BLENDER DRINK*
11:00 Drink a 6 oz. glass of filtered water
AFTERNOON:
12:00 Large "Made With Love" RAINBOW RAW VEGGIE SALAD, consisting of organic baby spring mix, sprouts, green onion, tomato, bell pepper, grated beets, ¼ avocado and sprinkling of pine nuts. Dressing: Bragg Organic Ginger & Sesame Dressing
1:00 Drink a 6oz. glass of filtered water
2:00 Drink a 6oz. glass of filtered water
3:00 A cup of green tea with 3 dates or figs for a snack
4:00 Drink 6 oz. glass of filtered water
EVENING:
5:00 Medium "Made With Love" RAINBOW RAW VEGGIE SALAD with a baked sweet potato with a touch of sea salt
6:00 A cup green tea with a ½ cup raw almonds for a snack
7:00 Drink 6 oz. of warm filtered water
8:00 Unwind with light stretching and gratitude meditation
9:00 Relax and retire
Repeat the next day.
*Recipes for New Day Chia Seed Pudding and High Power Green Blender Drink can be found in my e-book Diet For Living Cancer Free/what worked for me available on Amazon.com here: http://bit.ly/CancerFreeEbook
As you change your eating habits to meet your bodies needs you come to understand the importance of making a commitment to a new way of living. Congratulate yourself for all the dedicated work you did to organize and complete the week-end cleanse. Change happens in steps. Detox cleansing can be used as a leap off point to better health habits.
The ultimate goal is to become your own Wellness Warrior!!! I'm thinking you in no way want to return back to your unconscious way of conducting day-to-day living. It's time to move on. The past is the past. It doesn't serve you anymore. Launch into seeking a life that will nurture and sustain you.
WHAT YOU SEEK IS SEEKING YOU   Rumi
For many of us it means transitioning to a lifetime of eating what is called a 'High Raw' diet. This consists of 80% living foods and 20% healthy cooked foods. Then return to a gentle detox cleanse four times a year at the change of the seasons for fine-tuning.
I love this lifestyle so much. Not just because it saved me from uterine cancer but also because I spent my whole adult life up till the time of my diagnosis 'food obsessed'. It wasn't until I shifted to foods that truly supported me both physically as well as mentally did I find a life with balance and sanity. My mission from that day forward has been to share that knowledge with others.
__________________________________________________________
__________________________________________________________

OUR NEW YEARS 2020
'CERTIFIED HOLISTIC HEALTH COACH/
CANCER COACH PROGRAM'
HAS FILLED!
THANK YOU TO EVERYONE WHO TOOK ADVANTAGE OF OUR SALE!
WE LOOK FORWARD TO WORKING TOGETHER IN THE NEW YEAR!
Our Next Program Will Be September 2020.
Date To Be Announced!

Check Out Everything We Teach Here:
http://bit.ly/DFLCoachPrograms

Check Out Our More Testimonials here:
http://bit.ly/DFLS_Testimonials
Have questions?
E-mail us at dietforlivingschool@gmail.com or call us at 505.243.1157
We are here for you.
Please Share Us With Family and Friends Also Seeking
A Career That Makes A Difference!