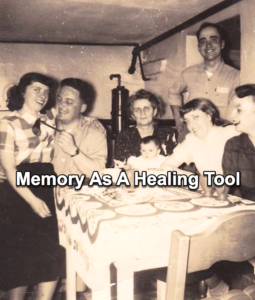 "Memory is humanity's most important asset. Containing the truth of the entire universe, memory is both the inner guide for each life and the means of exchange with the universe," says the brilliant Maya Tiwari, in her book, 'Secrets of Healing'. "Every atom and molecule of the cosmos, including the most minute cell and space within the human body is infused with cosmic memory of all time."
I am blown away by how profound and deep this knowledge is because, right now, in the 21st Century, modern advertising and the American Food Industry have teamed up to create a food system that encourages amnesia throughout the globe. Humans have been on Earth for 1.5 million years. At no other point in history have we been willing to consume so many substances that would not be considered 'whole foods'. Large industries creating pre-packaged products, powders and pills …..These mega giants are counting on us and our children and their children to have no memory of what real food looks like, feels like, or tastes like. As we put on the pounds from these 'nonfoods' our immune systems slips, our health declines, while industrialized American companies step in and promise to save us.
MEMORIES AND THE QUEST FOR SELF

Growing up I straddled two worlds. My mother longed to be the new modern woman of the 1950's. She was one of the millions of women frustrated with the isolation of the suburban household. She jumped at the chance to enter the work force and join the new norm for women. She had come up in a tiny cold water flat and her relationship with the kitchen was complicated, bordering on contempt. She fed us quick and easy foods, like Pop Tarts, KoolAid, Jello, hot dogs and frozen hamburger patties with Kraft fake cheese slices on top.
My second world, every Sunday, was spent with my old world Irish Family. A clan of generous women who created long dining room tables filled with slow cooked foods laid out on linen tablecloths, with polished silver and fine white china trimmed in gold edges. This long line of culinary females had been gathering together to feed family and friends the same way since the Middle Ages. When I was 15 my parents got a tumultuous divorce, sending everyone in our once close knit catholic family tumbling, never to rejoin again, causing great heartbreak for everyone.
As a young woman my relationship with eating was confused while I attempted to navigate this world of mixed messages and loss, only finding my way later in life while doing family memory work to help heal from cancer. It was a great sorting out process, that took several years and pages and pages of journaling. I had a lot of unresolved sorrow when I started.
I know there are a lot of New Age quotes and advice like "looking back isn't going to help you, moving forward is the only thing you can do". But I have found that sometimes going backward for a time is necessary to go forward. With gentle investigation of memories, one's relationship to the past can allow convergence with the future. You become a full story, your story. There-in exists hope of wholeness.
Today, after many miles, my spiritual life and the food I consume are not separate. The blessings of the Earth and foods that nourish me, combined with my participation in that process, are all one. Trusting that part of the interdependent web of existence and everything that I share it with has given me a completely new way to view my life's journey.
MEMORY ACTION STEPS:
Because we are all in process I encourage you to try the Memory Action Steps on yourself.
ONE: Take time to meditate daily with the goal of reflecting on memories related to food and family.
TWO: Explore family photos with the purpose of remembering how it effected your relationship with food and family. Any joyful memories you have can become treasures. Any conflicts or confusions that are holding you back become places to reflect on and iron out.
THREE: Relay your discoveries without judgement in a written journal or e-journal. No one will see them so you don't need to edit your notes.
FOUR: Ask yourself again and again "what did I find out that I needed to know?"
At first we may not trust ourselves. Our memories may not match another family members recollection of an event. No need to worry. Cultivating self-discovery is your own process. It is an exercise that gives us time, attention and permission to sort things out.
USING MEMORY AS A COACHING TOOL

What does all this mean to you as an effective nutritional coach that wants to help change people's relationship to food and health? In our training we teach you to begin with the Questionnaire. Through a series of questions we provide, you ask your client to visit their memories of family and food. You allow then to talk while you listen. They construct their own unique story so that they can better understand where they are today. You can suggest further homework with the above Action Steps. This opens continued conversation and helps you both design a plan that excites and motivates so that they can move forward. Unraveling old patterns, and adopting new healthier ones, takes time. Helping your client heal from their conflicted relationship with food is a creative process that allows them to explore deeper into their own uniqueness.
Visiting memories with purpose helps us all understand ourselves better. In this way we can make better life choices, eat healthier foods, connect to what is true. This is Healing in Action.
Got Food and Family Memories to Share? We Would Love To Hear From You! Join Us On Our Diet For Living School Facebook Page….
BECOME A CERTIFIED HOLISTIC HEALTH COACH!

If you, a family member or friend is in search of a career that helps you get healthy while improving the lives of others, please join us for our exciting Spring training.
Learn more here: http://bit.ly/DFLCoachPrograms
_______________________________________________________________
_______________________________________________________________



DIET FOR LIVING SCHOOL

Check Out Everything We Teach Here:
http://bit.ly/DFLCoachPrograms

Check Out Our Testimonials here:
http://bit.ly/DFLS_Testimonials
Have questions?
E-mail us at dietforlivingschool@gmail.com or call us at 505.243.1157

We are here for you.

Please Share Us With Family and Friends Also Seeking
A Career That Makes A Difference!