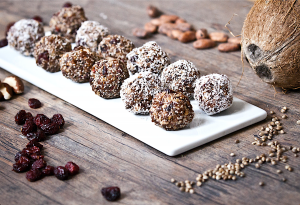 Studies have shown that when you ask the average male what food he would refuse to give up, the most common answer is beer. When researchers posed the same question to women, the answer without hesitation is chocolate. There is something tantalizing about this tropical Amazonian food that calls to us females.
Once considered "the food of the gods" by the Aztecs, they drank it unprocessed, in it's bitter state, for pleasure and as a stamina medicinal. It was Europeans who brought it back home, boiled it down and combined it with milk and refined sugar cane, and created the dreamy confections we have all become hooked on, especially around the Holidays. Because sugar and Christmas have a tight bond.
But here's the problem. White sugar draws minerals out of the body and causes blood sugar disorders. Sugar is also a cancer cell's favorite food. They gobble up sugar 50% faster than the average cell.
The good news? There is a new way to look at this ancient much loved food.
HEALING WITH RAW CACAO
Unprocessed, uncooked raw chocolate, also known as raw cacao, is one of the most important foods in the healing cornucopia. In the last 10 years Raw Food Alchemists and Innovative Healers have added it to the Food As Medicine Healing System because, like all Superfoods, it straddles the line between a food and a potent and beneficial medicinal.
SOME OF IT'S HUGE BENEFITS WHEN EATEN RAW ARE:
> It's packed with vitamins and minerals that re-load the immune system
> It contains plant-based iron known to improve chronic fatigue and anemia
> It improves brain function by improving blood flow, helping with foggy brain and memory loss
> It contains high levels of Magnesium that help with cardiovascular disease
> It contains the highest concentration of antioxidants in the plant kingdom, helping the body fight free radical damage from cancer. Slowing down free radical damage allows cells to rebuild again.
LEARNING HOW TO USE IT AS A MEDICINAL
In our 'Holistic Health Coach/Cancer Coach' training, we teach our students to prepare foods made with organic raw cacao from Ecuador. Paired with spirulina or reishi mushroom, you have one of the most potent foods on planet Earth. This is often the best way for anyone fighting cancer to consume raw chocolate to fight free radical damage and build the immune system.
Here is one of our favorite powerhouse recipes using 100% raw and certified organic cacao:
RAW CHOCOLATE HEMP SEED HOLIDAY BALLS
2 tablespoons raw cacao
3 tablespoons coconut flour
1 tablespoon raw tahini
¼ teaspoon spirulina powder
2 tablespoons hemp seeds
½ cup chopped raisins
3 tablespoons coconut nectar
½ teaspoon pink Himalayan salt
*COCONUT NECTAR is a syrup made from coconut blossoms. It has a very low glycemic index (GI 35) and gives foods a mild caramel taste)
*COCONUT FLOUR can be made in a hand held coffee grinder from organic coconut flakes
HOW TO MAKE:
ONE: In a glass bowl add all the ingredients together and stir well
TWO: Make into balls
THREE: Roll in coconut flakes to coat
FOUR: Set in the fridge for 10-20 minutes to set. Or eat right away.
Serve to guests, or eat two a day.

WARNING: RAW CACAO MAY CAUSE YOU
TO HAVE THE BEST HOLIDAY EVER!
_________________________________________________
_________________________________________________
Our January 2020 Class Is Full!

_____________________________________________
_____________________________________________
OUR NEXT
'CERTIFIED HOLISTIC HEALTH COACH/
CANCER COACH PROGRAM'
Date To Be Announced!

Check Out Everything We Teach Here:
http://bit.ly/DFLCoachPrograms

Check Out Our Testimonials here:
http://bit.ly/DFLS_Testimonials
Have questions?
E-mail us at dietforlivingschool@gmail.com or call us at 505.243.1157
We are here for you.

Please Share Us With Family and Friends Seeking
A Career That Makes A Difference!