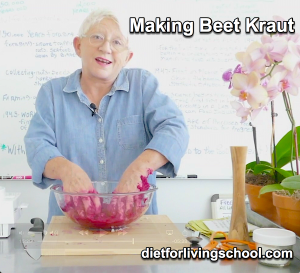 Americans in general are in nutritional crisis. Sixty years ago our whole culture was hijacked by man-made manufactured foods that are now making us sick. My heart breaks as I watch us try to deal with the confusion. There has been a tremendous climb in chronic diseases and many of them are linked to a diet that no longer includes live probiotic-rich foods. Researchers are finding that when our microbiome is disturbed it opens the body up to all kinds of diseases like:
> Cancer
> Irritable Bowel Syndrome
> Multiple Sclerosis
> Parkinson's Disease
> Rheumatoid Arthritis
> Celiac Disease
> Alzheimers
> Food Allergies
According to Dr William Li, as early as 2002, none of these diseases were linked to the microbiome. But today so much more is known about the important role a healthy gut plays. Research has expanded and grows yearly, the discoveries are exciting. What we now know is the microbiome is as vast as the Milky Way. The microorganisms living inside the gastrointestinal tract amount to 4 pounds of biomass consisting of 100 trillion microbes made up of 1,000 different species and containing nearly 2 million genes. I know, it's hard to wrap your head around it. This complex world living and operating inside our body is now considered "the new frontier of medicine" and many scientists believe the gut microbiota to be a possible additional organ.
From the moment a baby is born it starts building its microbiome. Humans acquire their first microbes from the entrance of their mother's cervix on arrival into the world. Without these early microbial guests, adaptive immunity would not exist. This allows for a quicker and more effective response to disease-causing organisms. When the body is in a healthy state this system works like a champ to keep us healthy for a lifetime.
However, when this ingenious system is compromised with inflammatory foods, chemicals, pesticides, synthetic sweeteners, hard alcohol, smoking and over use of antibiotics, harmful bacteria can take over and create havoc….because this area of the body controls energy balance, brain health, cognitive function, immunity and vitamin assimilation. A big, serious job!
Please read on to find out how to build and maintain this vital center of the body.
Maintaining a vibrant colony of friendly intestinal bacteria is accomplished with both "pre-biotics" and "probiotics".
STEP ONE: PRE-BIOTICS
Pre-biotics are a type of dietary fiber that feed the friendly bacteria in the gut. Some examples of pre-biotics are:
> Raw Garlic: Helps beneficial growth of friendly bacteria as well as preventing disease promoting bacteria from multiplying.
> Raw Onions and Leeks: Thanks to their inulin content, they promote healthy gut bacteria, boost the immune system and help with the breakdown of fats.
> Bananas: The prebiotic fiber in bananas has shown to increase healthy gut bacteria and reduce bloating.
STEP TWO: PROBIOTICS
The second way to tend to a colony of healthy intestinal bacteria is through consuming live food probiotics when we allow food to go through a fermentation process. Probiotics, the friendly bacteria that keep our intestinal health in balance, are not made inside the body. We must extract them from live cultures in our food and drink. These foods are packed with microbial cultures essential to life's processes, such as digestion and immunity, as well as protecting us from potentially dangerous organisms and invaders. Fermentation expands the bio-availability of minerals present in food as well as creating new nutrients. As the micro-organisms go through their life cycle, microbial cultures create a spectrum of B vitamins, making our food more potent than it's original form…..creating a Food as Medicine powerhouse.
The probiotics best suited for this task are the ones present in the air we breath. Microscopic yeasts surf through the air on dust particles. When the conditions are right, such as when we set out hand crafted kraut on the counter, these little guys latch onto your creation and create busy activity. The journey of fermentation begins. The birthing of new life to support life. As the fermentation process continues over time, lactobacillus ferments grow till they dominate the food…we then eat it…and it activates the microbiome's defenses against cancer or any other disease condition the that may be harming the body.
There is a mystique surrounding fermented foods that many people find intimidating. That is why our 100% on-line Certified Holistic Health Coach/Cancer Coach dual certification provides instruction on how to make small batch kraut; so that you can feel confident to teach your clients, using tools and skills that help them transform their health. During our training we go deeper into the importance of intestinal health. We believe it is imperative that you know how and why the foods work so that you can guide others on a successful healing journey.
FERMENTATION FESTIVALS
The revival of fermented foods has led to 'fermentation festivals' throughout the year everywhere in the country.
I am so thrilled that the one in Albuquerque, New Mexico was moved from June to October 19th this year. Glory hallelujah! The weather will be cool.
Tickets go on sale July 18. If you do not live in our area, you may want to google up 'Fermentation Festivals' and locate one close to you. They are a ton of fun and highly informative.
__________________________________________________________
__________________________________________________________

Diet For Living School
'Certified Holistic Health Coach/
Cancer Coach Program'

Make A Career Out Of Helping Others!

Praise from our graduate Christina Mueller:
"Best program ever! Very professional, very organized and stress free! LOVED every minute! Thank You!"
Check Out Our Dual Certification Program:
http://bit.ly/DFLSHealthCoach
Join us for this enlightening educational
experience as together we create a
healthier, happier, more fulfilling world.
What Our Graduates Say About Our Program:
http://bit.ly/DFLS_Testimonials
We Offer An Education That Is Engaging, Powerful
And Transformative For You And Your Clients!
Sign Up For Our Newsletter HERE To Keep Up With
The Latest Health News And Our Sales and Promotions.
Have questions? E-mail us at dietforlivingschool@gmail.com or call us at 505.243.1157
We are here for you.
The Best To Your Success
Diet For Living School
Education That Changes Lives