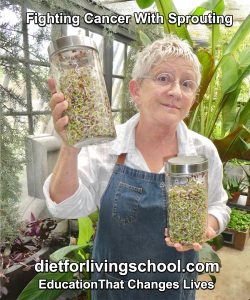 Our Sprouting Class in the Diet For Living School Greenhouse is a favorite hands-on seminar. You don't need a farm field to grow fresh green foods. Just a jar-seeds-filtered water, a little care daily and Voila!!! you have power packed live foods. It couldn't be more simple. Find out more about our Sprouting Class here: http://bit.ly/dflshealthcoach
The use of sprouted seeds for food and medicine is more than twice as old as the Great Wall Of China. About 3000 B.C., the Emperor of China recorded their great value in a book about medicinal herbs and diseases. Sprouted seeds were prescribed for complaints such as edema and inflammation, muscular cramps, visceral deficiencies, digestive disorders, weakness of the lungs and problems involving the skin and hair.
FIGHTING CANCER WITH SPROUTS
Because 1 in 3 women and 1 in 2 men in America will be diagnosed with cancer in their lifetime, at Diet For Living School one of the things we teach is the foods that best heal and restore the body from cancer.
More than 700 studies at John Hopkins Hospital have linked cruciferous vegetables to decreased DNA damage when in the live plant form. This means that broccoli and Brussel sprouts play an important role in fighting cancer.
When I was fighting my own cancer ten years ago my favorite sprouts were radish, a vegetable in the Brassicaceae family. Research that was not available to me at the the time suggests that this family of sprouts are even more effective at preventing and fighting cancer.
Today we recommend both families of sprouts to anyone fighting chronic disease because they are an important nutrient powerhouse. Sprouting actually increases the nutritional value of foods. A profound metabolic change happens during germination. As the complex nutrition of the dry seed is unlocked during the sprouting process, it pours copious energy into the green growth it produces.
Any viable seed, nut, grain or bean will sprout given the proper temperature, oxygen and moisture to allow the miracle to begin. But we do not recommend eating sprouted beans raw because they are too difficult to digest. Only sprouted seeds and nuts are easy on the digestive system and benefit the healing process.
TROUBLESHOOTING
I know you may have braved it and tried sprouting on your own, without success. You might have imagined that it must be a craft for only the very talented. But it's just not true. Here are some of the reasons you may have had trouble:
> The seeds were too old. Number one reason. You have to get your seeds from a producer that takes pride in only fresh and lively organic, non-GMO seeds. We like Johnny's Seeds for our School.
> You forgot to care for your seeds and they dried out. A big tip is keep those babies where you can see them. Out of sight out of mind.
> You may have tried to use too small a jar. These little guys EXPAND during their growing process. They are busy producing life in their jar. They need plenty of room to grow and breathe….
GETTING STARTED:
Soak seeds overnight and drain.
Rinse and drain sprouts well two to three times a day and lay jar on it's side.
In a few days they will be ready to harvest.
WHEN DO YOU KNOW THEY'RE READY?
They will be ready to eat when you see the first two tiny leaves unfold. Enjoy!!!
WOULD YOU LIKE TO LEARN MORE?
Food as Medicine: We created Diet For Living School so that you can learn how to make the powerful living foods that help heal the body from modern chronic diseases, then have the knowledge and confidence to transform others. Because bringing our gifts out into the world is what it is all about. If you are called to help others, we invite you to attend our fall Certified Health Coach Program. It's a life changer!
There is still time to register right now to save your place for the Fall Certified Health Coach Program. You will have to hurry! Class is almost full for this training!
Check out our Program here: http://bit.ly/dflshealthcoach
Call 505.243.1157 to find out more!
We would love to talk with you and answer your questions.
Please share us with family and friends that would love to have a career in Health and Healing.