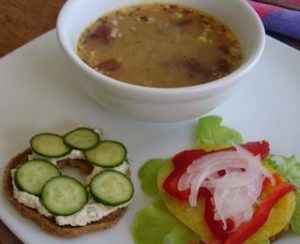 When you tell people you eat a great percentage of your food raw, you often get two responses: Open curiosity or shut down tight fear. "How will I get my protein?", they ask, panicked. Fair enough question.
Protein is essential. Without protein, our bodies cannot function properly.
Yet the fact is, as American's, we have been getting too much protein from animal products. It has begun to turn on us, with rising numbers of heart disease, arthritis, osteoporosis and Alzheimer's. Often protein rich nuts, vegetable, fruits, sprouts and seeds give us just the right amount in a natural alkaline form.
I love cheese and I would hate to do without it. Right now I am deep into vegan, dairy-free cheeses that are heart healthy and excite the palate. Cruelty-free fromage, with no additives or binders, just pure natural ingredients. I do better on these foods.
I had my editor over for lunch this week. I am writing an e-book on cleansing called our 'Perfect Whole Body Cleanse'. I served her a raw bagel with scrumptious raw home made vegan cheese, end of season red pepper and heirloom tomatoes from the garden topped with microgreen lettuce from the green house. I also served miso soup, and , for dessert, coconut cream tartlets with gluten free macadamia crust.
OK I was showing off a bit but in a good way. I get so excited about all the ways you can serve raw food. She brought raw cacao candies so delicious they would make you weep, but that's another story.
Here's the recipe for the vegan raw cheese I served.
Vegan Artisan Cheese Recipe
1 cup raw cashews, soaked in water overnight
¼ cup and two tablespoons rejuvelac ( I blogged on making rejuvelac a few postings ago; here's the link. It adds healthy probiotics and gives the cheese it's sharpness)
1 tablespoon nutritional yeast
1 tablespoon fresh squeezed lemon
½ tablespoon organic lemon zest
a pinch of sea salt to taste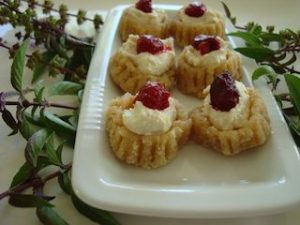 Drain the cashews and add to a Vitamix blender with the rejuvelac and lemon juice . Begin to process on low and turn up the speed as you go. Add yeast, zest and salt and blend until smooth. Transfer your mixture into a glass (never metal!) and cover.
Allow your cheese to sit at room temperature for at least 24 hours or more to mature. Serve or store in fridge for up to a week.