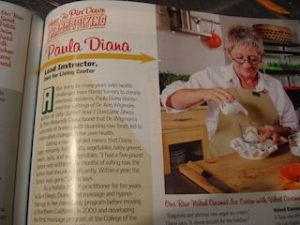 With gratitude, Diet For Living Center thanks Albuquerque The Magazine for carrying a two page spread on our Raw Food recipes for Thanksgiving on pages 168-169.
Thank-you, thank-you. It came out beautifully!
We were so excited to publish recipes that take gluten free, dairy free fresh raw ingredients and make them into creative pies, breads and cheeses. These are exciting times in the culinary arts.
Celiac affects 1 out of 133 children and adults. Thats 3 million people. The American Diabetes Association reports 25.6 million people diagnosed with diabetes with 79 million pre-diabetic. For these friends and family a table laden with sugar filled wheat foods can take the joy out of celebrating. Alternatives to our traditional favorites will come as a welcome relief.
People over all over the world celebrate holidays with special foods. That's the kind of recipes we published in Albuquerque The Magazine. Please check it out for great ideas.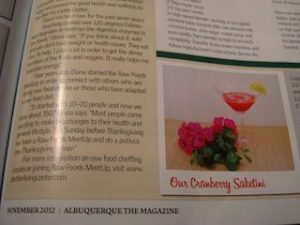 We would like to add one more super favorite. My grandmother would make it for all our family holidays and we loved her all the more for it—Lemon Meringue Pie. Only this is Raw Style. No sugar, eggs, dairy or gluten. Just plant based foods at their best. And one of the best things we have ever tasted.
Holiday Raw Lemon Meringue Pie Recipe
Gluten-Free Pie Crust Instructions
2 1⁄2 cups raw macadamia nuts soaked 8 hours and drained
1⁄2 cup well packed soft dates, chopped
1⁄4 teaspoon pure vanilla
1/8 teaspoon mineral salt
In a food processor, using the "S" blade, pulse together macadamia nuts, soft chopped dates, pure vanilla and mineral salt. Process until a moist, firm dough forms. Press crust mixture into a 9 inch deep dish pie plate coated with unscented raw coconut oil. Set aside.
Filling Instructions
2 ounces Irish Moss (cut up small, soaked over nite and drained before use)
1½ cups fresh organic lemon juice
¾ cups raw light agave nectar
pinch of salt
In a high powered blender on high speed (we use a Vita Mix), blend together the Irish Moss and lemon juice until it is thick and smooth, the color of cream. Add the agave and continue to blend. Pour into your gluten-free Macadamia Pie Crust. Set in the fridge for three hours.
Holiday Healthy Meringue Instructions
1 ounce Irish Moss (cut up small, soaked over nite and drained before use)
½ cup spring water
1 cup fresh baby coconut milk (check the freezer section of your local Asian store)
½ cup baby coconut meat (check the freezer section of your local Asian store)
½ cup soaked cashews
¼ cup light weight raw agave
1 teaspoon pure vanilla
1½ teaspoons lecithin
½ cup coconut butter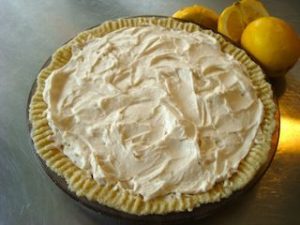 Blend the Irish Moss and spring water until smooth, thick and creamy. Add the coconut milk, coconut meat, cashews, lemon juice vanilla and salt. Blend all ingredients until smooth. Add the lecithin and coconut butter and continue blending. Pour in a glass pan and set in fridge, allowing the merengue to set-up for three hours. When ready, spoon on top of pie, spread and create peaks with a spatula. Enjoy!