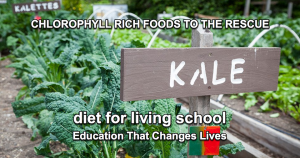 A thrilling discovery was made in 1990 when scientists began to understand that free radical damage was involved in early and late stage cancer growth.
One of the strongest natural nutritional weapons against cancer growth is antioxidant rich live chlorophyll juices and foods. Antioxidants are easy to find. They can be found in the bright colors of fruits and vegetables. The bright green found in kale, spinach, chard, wheat grass, spirulina, even sea vegetables.
Chlorophyll rich greens are packed with antioxidants, which have the ability to repair free-radical damage. Because chlorophyll is 98% identical to human blood, the body can easily recognize it and put it to work right away fighting free radicals, flushing and eliminating cells of toxins and providing the body with a powerhouse of needed nutrients.
When fighting cancer with natural nutrition one of the biggest reasons for controlling free radical damage activity in the body is because it's destruction can change the instructions coded in our DNA. DNA is the repository of genetic information in each cell, it's integrity and stability is essential to life. Free radicals can cause colossal disruption in this vital process. If we destroy our body's long term memory system, the blue print, how will it know how to function, organize, replicate, heal?
A diet high in antioxidant rich greens over time can literally halt an avalanche of free-radical damage to an organ. The body is complex but it's ultimate upkeep is simple. Nature is so smart. The more green antioxidant activity you have the better chance the body has to heal and stay healthy.
GREEN GAL ANTIOXIDANT RICH JUICE
Keep It Real, Keep It Organic!
> 2 granny smith apples
> 1 stalk celery
> one carrot stick
> 1 beet
> thin slice lemon
> 2 kale leaves
> ¼ ounce fresh wheatgrass juice
Begin by juicing ¼ ounce fresh wheatgrass juice. Set aside.
Continue to juice the apples, carrot, celery, lemon, kale and beet. Add back the ¼ wheatgrass shot. Mix together and drink right away.
Drink daily. Cleanse and watch your health improve.
WANT TO LEARN MORE NUTRITIONAL TRUTHS AND TEACH OTHERS?
If you long to get your health and your life on track while learning to make the healthiest foods on Planet Earth, then join us for our fall 'Certified Health Coach Program'.
We have had a cancellation and have one spot left. Call Diet For Living School today to get in on the sale price: 505-243-1157
Find out everything we have to offer you here: http://bit.ly/dflshome