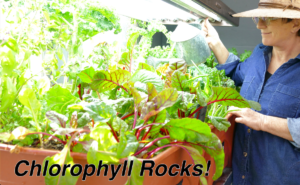 How quickly we are all being asked to shift….transform….and move forward, yet stay in place while we weather the present storm. In the ten years that we have been publishing the Diet For Living School Newsletter we have only missed 3 times. One of those times was last Friday. We live in the Northern Hemisphere. Our weather is transitioning from Winter to Spring which means the earth is just beginning to turn green. On Friday we called our non-GMO plant nursery and they reported a truck load of baby plants had been dropped off early. The ones we needed: chard, several kinds of spinach, romaine lettuce, celery and bok choy. Another truck load was maybe coming in a week but they couldn't be certain. Joseph had to nurse in the afternoon, so we dropped everything and made preparations to leave the house.
Now why was it so important to suit up in a mask and gloves and leave the safety of our self isolation post? Because all these leafy green plants are rich in chlorophyll, the most potent plant pigment responsible for fighting viruses affecting the lungs. The 'Tropical Botanic Garden and Research Institute' in India found that chlorophyll from live plants helps turn off a pro-inflammatory cytokine, called lipopolysaccharide, that is involved in what are called "cytokine storms". What does that mean to us in understandable terms? Cytokine storms are involved in COVID-19. A cytokine storm is an overproduction of immune cells that can go hay-wire in a viral infection. When it occurs in the lungs the inflammation can block airways (if you want to go deeper into this topic you can read "Cytokine Storm Syndrome" by Randy Cron, MD).
To take advantage of this benefit from LIVE FOOD chlorophyll, we felt we'd better rush to the nursery, stock-up, and get down to the business of replanting.
NOTE: As I continue on about the benefits of fresh chlorophyll, I want to make it totally clear that I am only sharing what Joseph and I use in our tool box in our attempt to keep well in these complicated times. COVID-19 is a life threatening virus, and you should seek medical treatment immediately if you have any signs or symptoms.
In the early part of the twentieth century chlorophyll was regarded as a top-notch weapon in the arsenal of pharmacopoeia. In 1941 Reader's Digest published a much respected article called "The Green Magic of Chlorophyll", which discussed the tremendous potential of chlorophyll. But once science discovered that fresh chlorophyll did not store well, and, therefore, no big money could be made off of it, despite the dramatic effects indicated in various studies, chlorophyll was abandoned as we entered the modern age of 'antibiotics'. Hence it was shoveled under the rug, forgotten.
DIVINELY CREATED….THE BENEFITS JUST KEEP GETTING BETTER….
This is unfortunate, because chlorophyll boosts the immune system by stimulating bone marrow, which is responsible for the production of white blood cells. Just what we need right now. If you are a spiritual being it is not lost on you the divinity of this gift from God for our nourishment…LIVE PLANT chlorophyll is 98% the same molecular structure as human blood…meaning it is almost identical to human blood. The genius of this just blows my mind. The human body recognizes it immediately and starts sending it to every inch of the body to do it's healing work. Today, with much gratitude, LIVE FOOD chlorophyll is again taking it's exalted place in the Food As Medicine Healing System where it belongs.
WANT MORE INFORMATION ON THE MOST MODERN RESEARCH ON PLANT BASED LONGEVITY FOODS? HOW THEY CAN BENEFIT YOUR HEALTH, YOUR FAMILY AND YOUR COMMUNITY?…..THE BEST WAYS TO CONSUME THEM?…..
JOIN US APRIL 1 for our next training and become Certified as a "Holistic Health Coach/Cancer Coach" so that you can educate others. The World needs you now more then ever. Our 3 month Dual Certification Program is 100% OnLine so we do not have to cancel during social distancing. You can participate from home. A $300 deposit holds your place and you can use our payment plan.
__________________________________________________
__________________________________________________

DIET FOR LIVING SCHOOL

Check Out Everything We Teach Here:
http://bit.ly/DFLCoachPrograms

Check Out Our Testimonials here:
http://bit.ly/DFLS_Testimonials

Have questions?
E-mail us at dietforlivingschool@gmail.com or call us at 505.243.1157

We are here for you.

Please Share Us With Family and Friends Also Seeking
A Career That Makes A Difference!