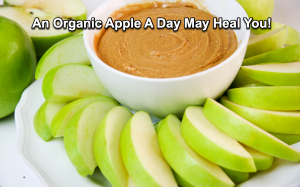 "An apple a day will keep the doctor away"….but only if it's Organic. Conventionally grown apples are the single most pesticide contaminated produce item available at the grocery store. The USDA tested non organic apples and found them to contain 42 different toxic pesticides.
Farmers who use conventional methods (non organic) drench most apples in a dangerous chemical called diphenylamine, also known as DPA. DPA is used in making plastics (water bottles), rubber and explosives. For us, when consumed, it can cause DNA damage which leads to cancer as well as damage to the kidneys and liver.
Conventional apples, apple juice and apple sauce are staples for millions of school children. As well they are found in hospitals, nursing homes and hotel buffets. Touted as a 'healthy choice'.
I know it's tempting to buy non organic fruits and veggies to save $$$. But this is one fruit you don't want to cut corners on for you, your family or your children.
NOT ALL APPLES ARE CREATED EQUAL
Even when buying organic, not all apples are created equal. Golden Delicious and Pink Lady are loaded with natural sugars. However, the green Granny Smith is more nutritious, lower in sugar and has 13 times more phytonutrients than the Golden varieties.
Our favorite easy snack at Diet For Living School is Raw organic green apples topped with Raw organic almond butter. This alkaline snack is perfect for afternoon low blood sugar.
__________________________________________________________
__________________________________________________________
Diet For Living School
'Certified Holistic Health Coach/
Cancer Coach Program'

Make A Career Out Of Helping Others!

Praise from our graduate Christina Mueller:
"Best program ever! Very professional, very organized and stress free!
LOVED every minute! Thank You!"
Check Out Everything We Teach:
http://bit.ly/DFLSHealthCoach
Join us for this enlightening educational
experience as together we create a
healthier, happier, more fulfilling world.
What Our Graduates Say About Our Program:
http://bit.ly/DFLS_Testimonials
We Offer An Education That Is Engaging, Powerful
And Transformative For You And Your Clients
Sign Up For Our Newsletter HERE To Keep Up With
The Latest Health News And Our Sales and Promotions.
Have questions? E-mail us at dietforlivingschool@gmail.com or call us at 505.243.1157
We are here for you.
The Best To Your Success
Diet For Living School
Education That Changes Lives