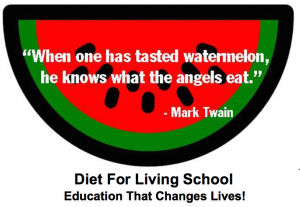 The acidic Standard American Diet (SAD) makes it very difficult to maintain a balanced pH. When my body was fighting to reverse cancer symptoms my first challenge for getting well was to get Alkaline….ASAP. Cancer cells do not thrive well in an Alkaline environment.
To regain my health, I followed Dr. Ann Wigmore's Raw Food Protocol. She was very adamant about drinking the very Alkaline waters of the watermelon rind. This is the white flesh of the peel where the highest concentration of nutrients are.
I was in serious trouble, so I juiced the white rind blended with filtered water as instructed. I carried a jar about daily and sipped on it at intervals until I'd consumed two quart jars of the precious liquid by night fall. Then I would begin again the next day.
In time my very acidic condition shifted. Inflammation subsided. As I added other Raw Foods and unpasteurized fermented foods to my diet, I began to heal, get well and flourish. Thank you Dr. Ann Wigmore for your ingenious work. Thank you for sharing it with the world and making it possible for me to save my life using Living Foods as a healing tool.
BECOME A CERTIFIED HEALTH COACH!
Your Commitment To Yourself
Signing-up now is a commitment to you and your future. As with any new endeavor, preparation is essential:
> Prepare for what no longer serves you to drop away.
> Prepare for more awareness.
> Prepare to inspire others.
> Prepare for your dreams to come true.
> Prepare for a new life and a new power to come through you.
> Prepare for 2017 to be your Best Year Yet!
If you are called to learn a new way to live while creating a career that has meaning you will want to join us for our Fall 'Certified Health Coach Program': http://bit.ly/dflshealthcoach
Our mission: To get as many people as possible excited about holistic healing. To help encourage you to take this step forward, we have our spectacular 'Fall Give Away' going on right now! Save on your education and get plenty of free gifts to help you get started.
For the next 7 DAYS ONLY, Receive These Wonderful Gifts when you register:
> $300 off the total price of your tuition!!!! Wow, right? We want to give you all the incentive you need to get healthy, help your family become healthier and bring that knowledge to your community to build a successful career.
> Free! 45 minute one-on-one Strategy Coaching Session (worth $125) to help guarantee your success.
> Free! A copy of my e-book "Diet For Living Cancer Free/what worked for me".
> Free! A copy of "Living Cuisine/The Art and Spirit of Raw Foods" when you attend class (a $21.95 value!).
> Free! Our 3 'Favorite Vegan Cheese Recipes' when you subscribe to our Newsletter. Join our tribe of 3,000 readers dedicated to learning how to live a better way today.
All this for you when you sign up during our sale for our Fall 'Certified Health Coach Program'.
If you are heart centered yet mission driven, check out our wonderful three month Program here: http://bit.ly/dflshealthcoach
Check out how much our students love this training on our Testimonial Page here: http://bit.ly/dflstestimonials
If you have questions, we are here for you. Call Us: 505-243-1157
In Faith For A Better Tomorrow
Paula Diana/Co-Founder
dietforlivingschool.com
Education That Changes Lives
Please Share This Post With Anyone Looking For A Career That Makes Sense!